Honours, Victorian College of the Arts
By Sujin Jung
Social Babel
This year, I could not attend the VCA grad show in person. Instead, I researched the exhibition by hunting for images posted on social media grids and consulting those in a shared folder provided by the Memo editors. I witnessed numerous artworks employing the media of video, sound, painting, sculpture and technology. In this social Babel, various images and videos of artworks were selected from different perspectives, uploaded, circled and hashtagged. Some images were very clear, and some were not. Despite this confusion, I found some of my own words to describe a subtle stillness evident throughout the exhibition.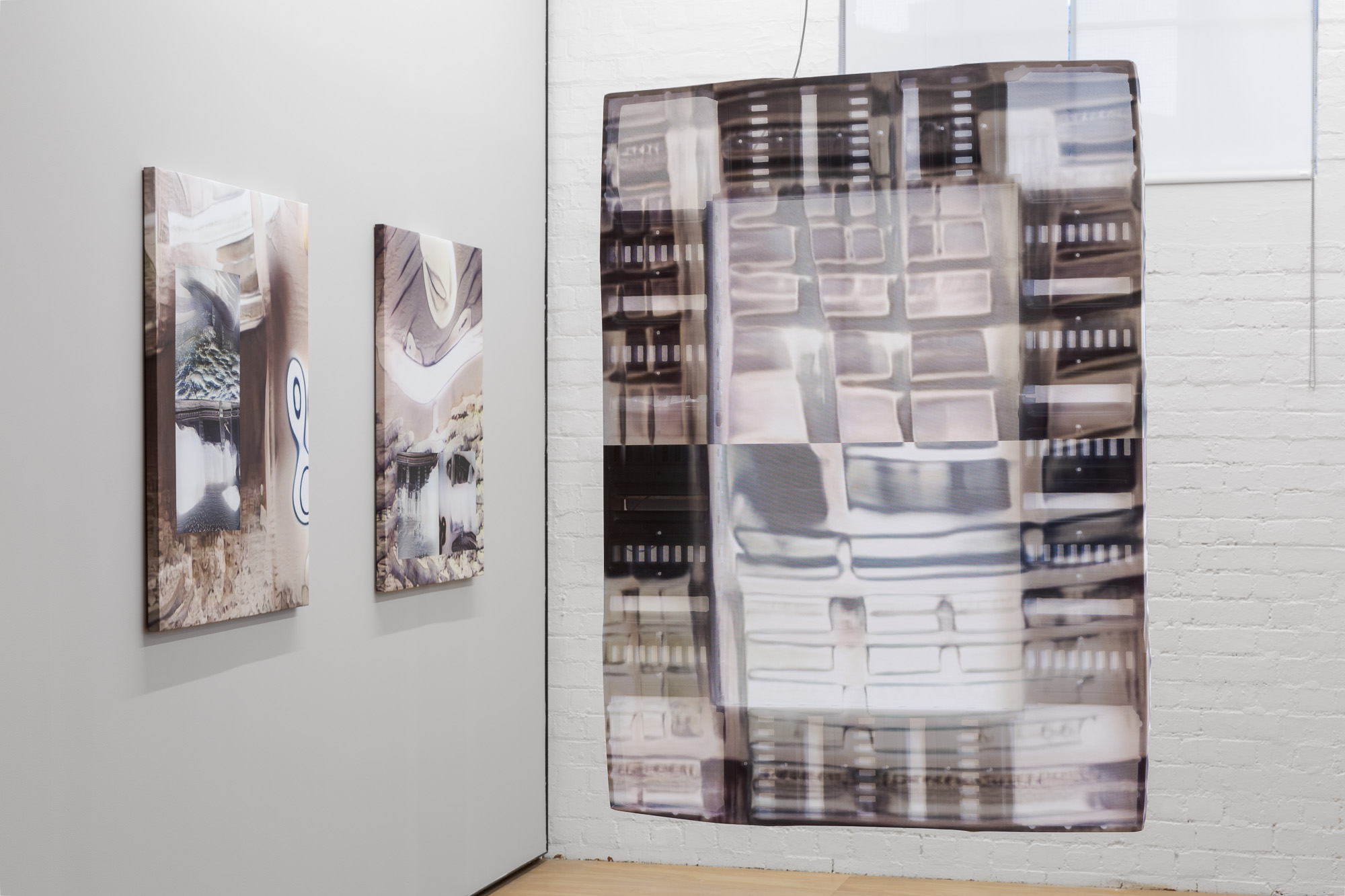 Nina Sanadze's video tableau, Terminus (2020), available online here, moves slowly through a home, its audio track discordant with its visuals; the sounds of ping pong balls are heard, but nothing moves on the table. It feels significant that pieces of a Soviet monument are shown often, surrounded by symbolic items that exhibit signs of the passage of time (e.g., stains, rotten fruit and withered flowers) and lifeless objects (e.g., Lego pieces, dolls and preserved butterflies), forming eerie, surrealistic combinations. The stillness in the video juxtaposes human history with a fixed monument. What ruins is the artist holding in the middle of the video? Sanadze prompts us to reflect on traces of our relationship with the immobile.
If Sanadze's video is like a music box stopping after being played for a long time, then Seth Searle's paintings are like music when the radio is turned on mid-chorus. Searle has painted figures with names (e.g., Grace or Leyla) who are mulling over something. Many hands are in a flurry of activity: pouring, holding, touching and pointing. Searle uses tablecloths or the fabric of a skirt to transform still life paintings into a theatre, complete with curtains. A violent colour contrast of yellow and blue contributes to the works' melodrama.
Felix von Dallwitz's IMG000000469 (2020) shows what the trained algorithm (GAN) sees. An AI-generated landscape looks like deserted apartments in a ghost town and rolls of undeveloped film. Frigid steel has been changed into melancholic window panes, through which the view remains in flux. Dallwitz's mixed media fabric prints represent multiple realities manifested by technology, always ready to transform, never satiating the user. These blurry, digitally manipulated/ projected images look like abstract paintings, even microorganisms seen through a microscope. They offer a new technological dialogue.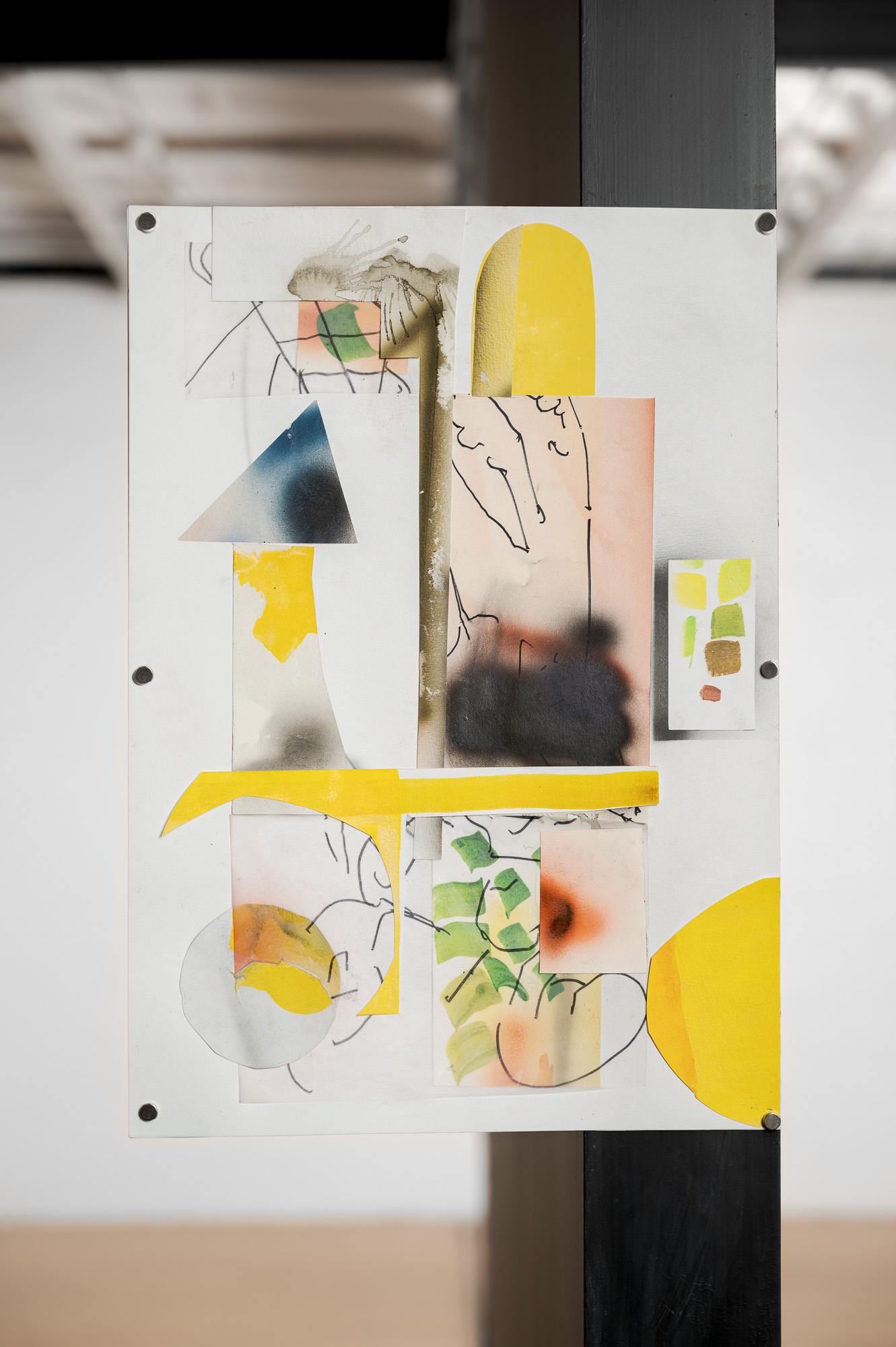 Through the use of subtle magnets, N poles and S poles are pulling each other in Lachlan McKee's Untitled (2020), but it is not at all a brawl. The composition encompasses figurative drawings, geometrical planes, emptiness and some dark blur, as if many different abstract paintings have been accumulated and are somehow harmonised on the canvas. McKee articulates fluidity and blurriness in the space of the canvas through the familiar language of abstract paintings and collage, with magnets holding the composition in 3D suspension.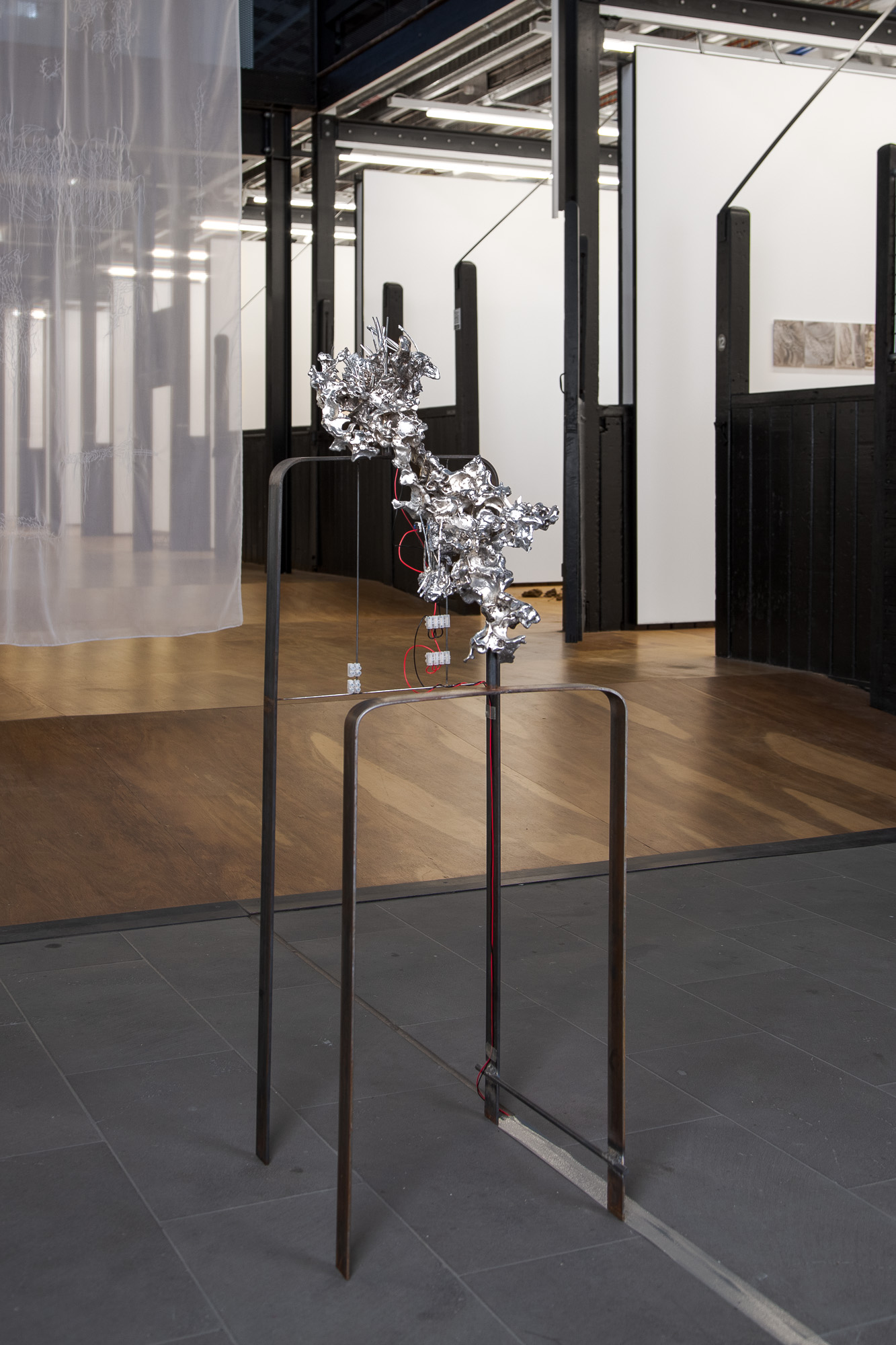 Julien Comer-Klein's Molten Dialogues (2020) is a sound sculpture. This coral reef or bee's nest is constructed from aluminium, mild steel and "various electronic components". It makes an intimate sound like that of bugs or welding. The variations it emits are neither a roaring noise nor extreme silence; rather, intimate whispers can be heard. This fragile yet beautiful living creature was awake all night in the silence.
The VCA grad show evoked in me a subtle feeling of stillness. The stillness of a distant storm. I hope that my sentiments have touched the artworks, even if the experience feels somewhat incomplete without seeing the nuances of the works in person.
Sujin Jung (she/her) is an art writer and MA student in art curatorship at the University of Melbourne.