Bachelor of Fine Art (Visual Arts), MADA
By Margarita Kontev
The works in the Bachelor of Fine Art (Visual Arts) graduate exhibition show what is expected to be on the other side of a portal.
The vaseline-lathered mirrors in Chloe Selsick's installation, three-dimensional Rorschach tests in Pooja Gupta's videos, anthropomorphic soft-sculptural passages in Joanna Pham's install and Emily Keagan's ideas of the "self" on which she claims to be an expert: all these works explore how art can beckon, both literally and metaphorically, to reach and realise the true self by voyaging through a passage.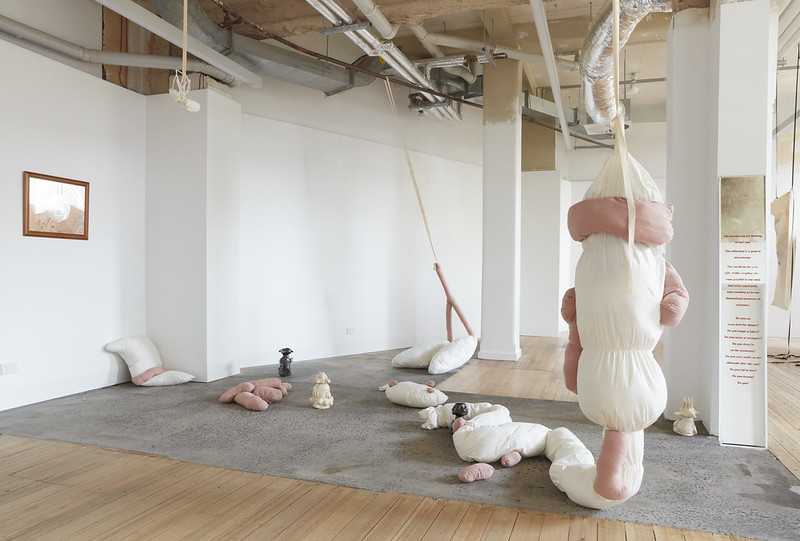 Trauma Embodied (2020) is a documentation of the active and constructive process one takes towards recovery and healing. Joanna Pham has strung up memories and occurrences in a series of fabric sheets, each one only slightly resembling strokes of handprints or paint-soaked hair. To me, the approach to this installation is intimate and gentle: I notice the suspended cloth presents no tears in the cotton; instead, each dark patch of paint acts as a doorway to the next canvas. While Yves Klein stamped his canvases with the aestheticised and objectified bodies of women, Pham displays the remnants of human activity and the psychological strain in her battle with the four canvas panels, which hang delicately by black ribbon.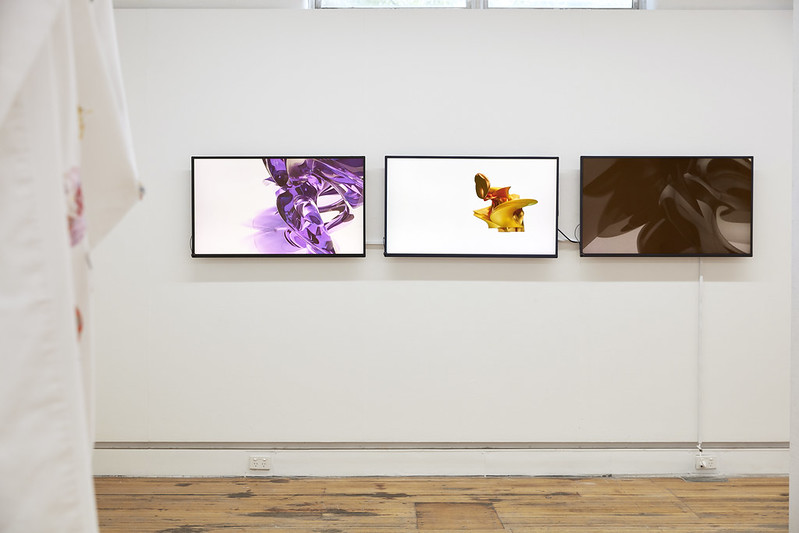 Pooja Gupta's three-channel video work Anthropomorphous (2020) fabricates a new virtual environment across three portal-screens where I again become a voyeur. Virtual cameras survey the white eternal landscape. Inside float synthetic textures of monolithic sculptures rotating on pedestals. They convulse into ribbons, ribcages, rhino-designed to form brushstrokes and ink blots and gateways like desert portals in science fiction tales. The artist has modelled these figures as three-dimensional Rorschach prints, where the interpretive visuals reflect what our brain wants to see: I see the purple glass monolith as a crown, while the wooden 3D ink blot appears to me as an unpainted toy. Here is where Gupta opens up Anthropomorphous (2020) as a glimpse into the corners of our identity within the virtual expanse, creating a screen-portal into the self like a psychological test.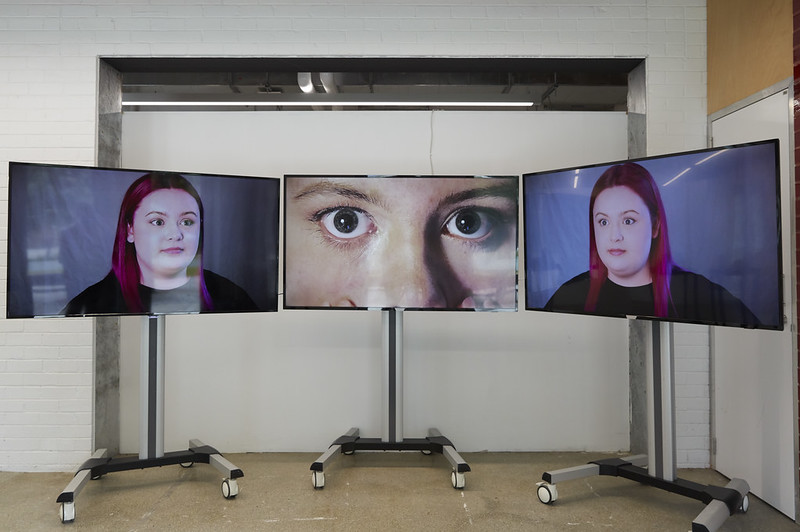 I begin to feel acutely aware of my body in the room of the BVA works and find myself speaking an internal dialogue with Emily Keagan, who attentively listens, nods, raises her eyebrows, rolls her eyes and laughs in response, making me feel a sense of reassurance in what I'm thinking. Conversation (2020) is a video-performance of self-reflection expressed through the muscles in the face, yet only showing the tail-end of the interaction with exaggerated reactions. Keagan's three-channel video-installation is two pre-recorded reaction reels communicating with one another and a third that is absent and silent. It ignites my awareness of the screens we penetrate in order to see ourselves.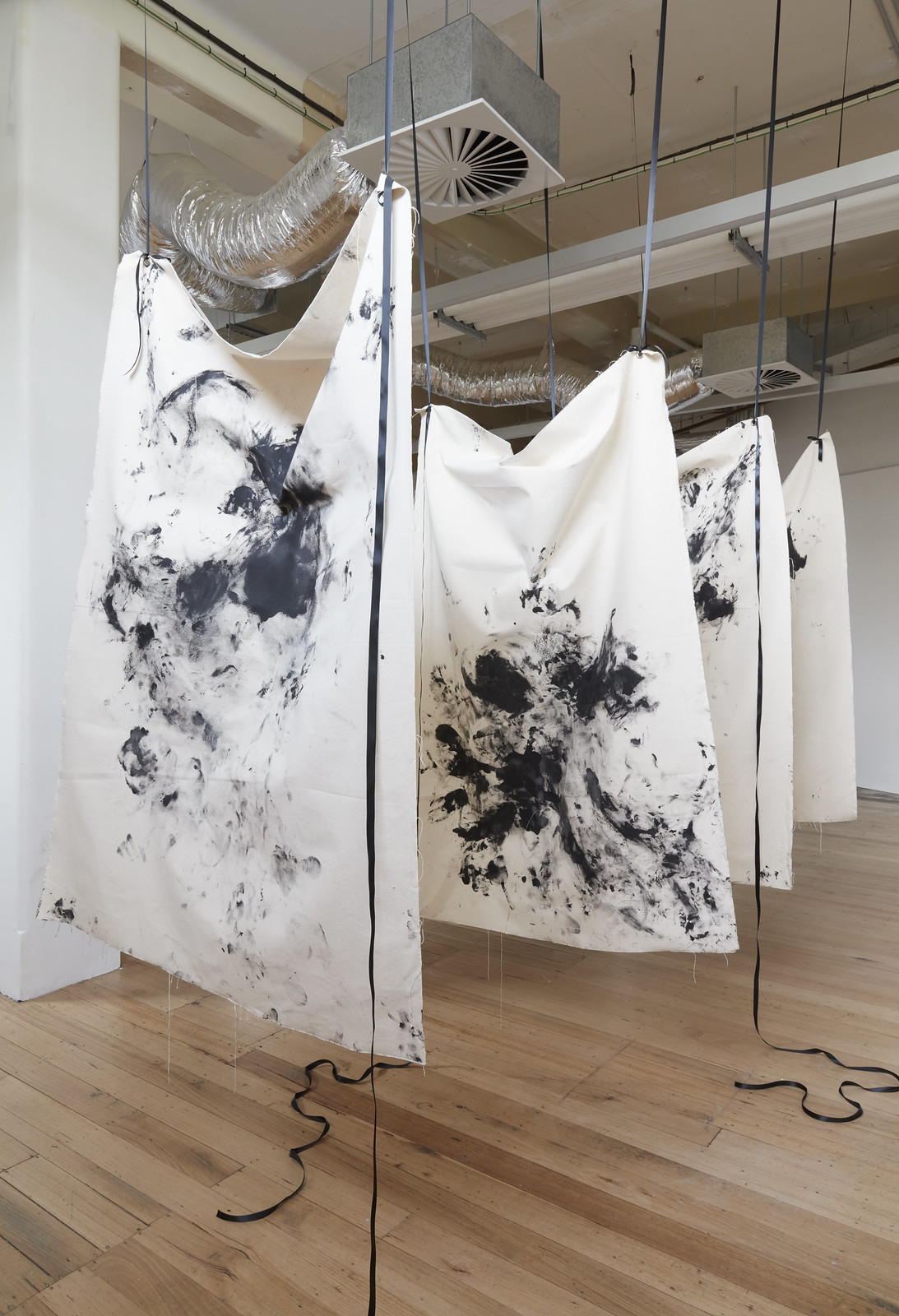 Elsewhere in the exhibition, vaseline is smeared on mirrors that blur my face. The installation spreads across the floor space where the physical lays dormant and the cerebral hangs. Chloe Selsick's The Body is a Vessel (2020) exposes the various vessels sitting within us in a physical and spiritual manner by creating a middle layer between the bestial, multi-faced ceramics on the ground and the suspended soft-sculpture organs of pink lungs and livers. The display creates a moment of selflessness where Selsick is able to reach a realisation of containment and control; the hanging vessels are equal to the grounded spiritual figures and together they merge to form one.
Margarita Kontev is an emerging writer and curator who is currently undertaking a BFA in Art History and Curating at Monash University. She has a strong interest in sound art, field recordings and immersive soundscapes within global and local contemporary contexts.