Bachelor of Fine Art, MADA
By Kayla Flett
The boundaries of materiality are blurred in room D211 of MADA Now. Sculptural works by Luka Lesosky-Hay, Phoebe Foldvari and BoheMia unfurl into temporal performances where they record the physical traces of lived, laboured and measured time.
Luka Lesosky-Hay's work Leakage (2022) is an excavation site of posthuman biological mysteries. Here soft fibres that cradle fleshy sacks that simultaneously appear fragile yet robust. They are soft and supple like human skin or viscera and precariously yet effortlessly hold everything together. Employing calico, ice, yarn, aluminium, metal hooks, wax and glass, Lesosky-Hay gently nudges us into appreciating the slowness of time. This temporal juncture is best illustrated by a chunk of ice suspended within a knitted pouch; the ice quietly melts onto a metal tray below. Through the ephemeral nature of ice and the folding forms of biomorphic wax masses, Lesosky-Hay prompts us to contemplate our phenomenological relation to the work as well as quantify time in the form of a growing puddle.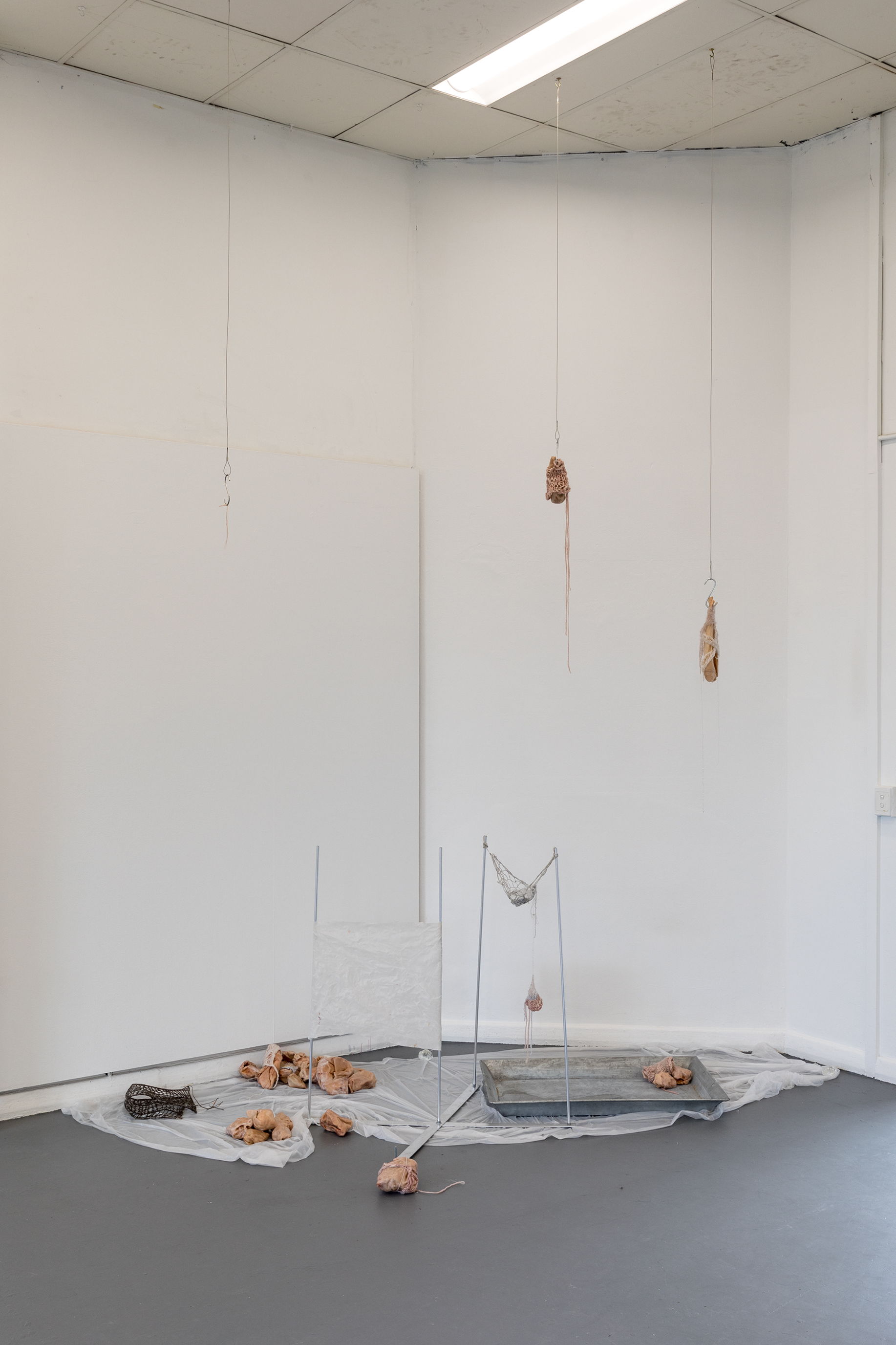 Installed diagonally from Lesosky-Hay's is Phoebe Foldvari's work which records visceral temporal marks on a variety of media. The dialogue between each mark is physically recorded through a series of automatic drawings and produced through impressions of one material onto another. Foldvari's very nervous and worried and unable to relax because of something that is going to happen (2022) indexes a series of graphite gestures. Hand-made steel nails evoke a sense of fraught anxiety and are used to pin pieces of handmade paper onto the alongside pieces of concrete and bronze. The brutal nature of the steel nails coupled with the fibrous fragility of parchment gives an ultra-sensory experience. Ambiguous impressions on many of the surfaces provide a visual aura of mark-marking which allude to an astir moment in an otherwise passive arrangement. Each impression is chaotic, transient and unpredictable. To experience and engage closely with these small interventions you must crouch down on your knees.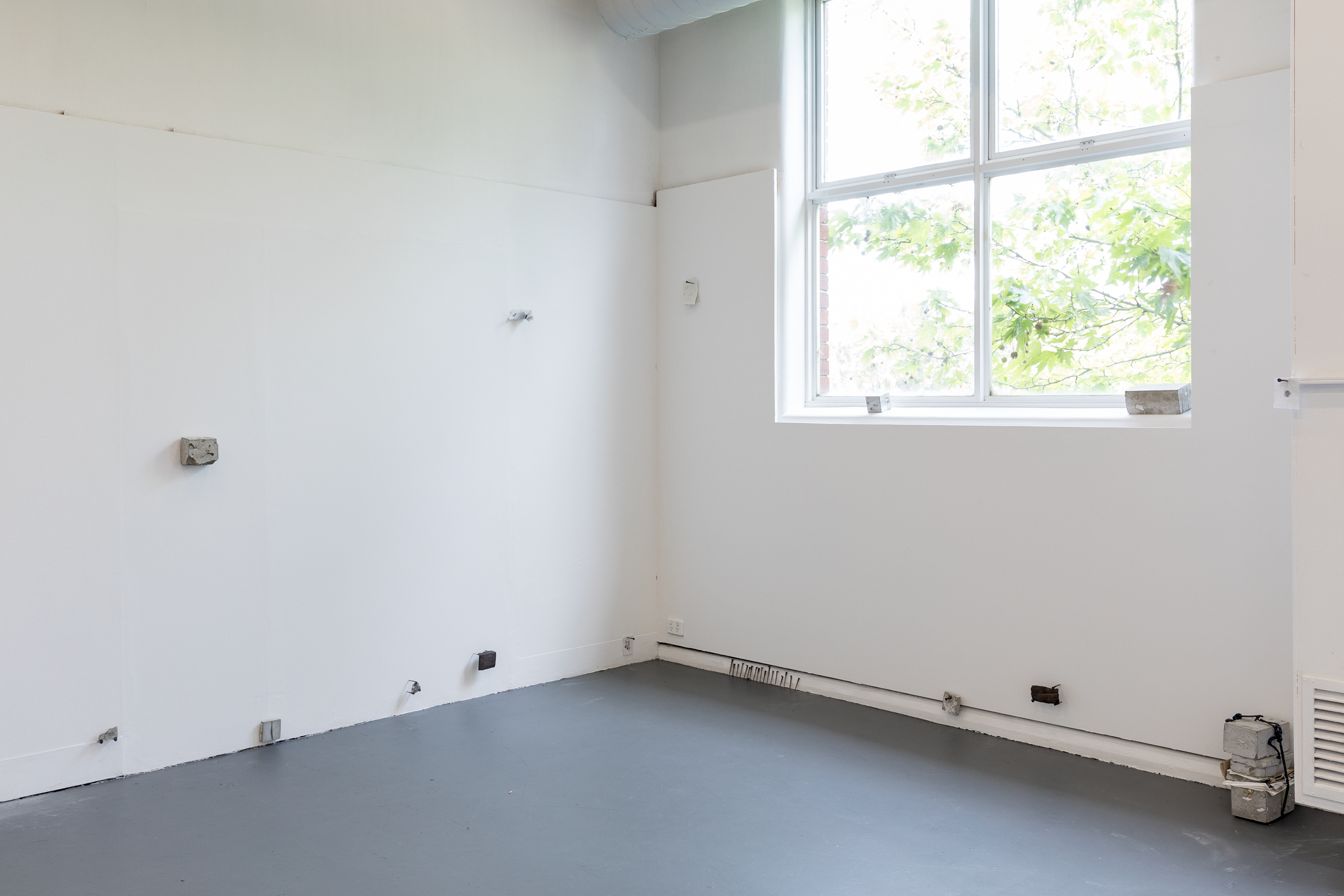 BoheMia's works also engage with sculptural forms as markers of time, but instead of capturing an essence of lived time, or a past moment, BoheMia is concerned with time in the sense of production. Commodities (2022) and Prints from Scratch (2022) are accompanied by a text that draws attention to the timely processes and skills that are inherent within the final form of each work. The artist proclaims that these works are "performance piece[s] with a physical history and timeline". BoheMia is concerned with the push and pull between 'craft' and 'art'. Commodities is made up of wheel spun vessels stacked atop one another in haphazard yet elegant fashion. Unctuous glazing creates a marker of the hand that adorned it. In Prints From Scratch there are delicate etchings on handmade paper fashioned from shreds of old drawing journals and unwanted notes. They survive through the embodiment of another artwork, no less than the culmination of BoheMia's practice thus far in the MADA Now show.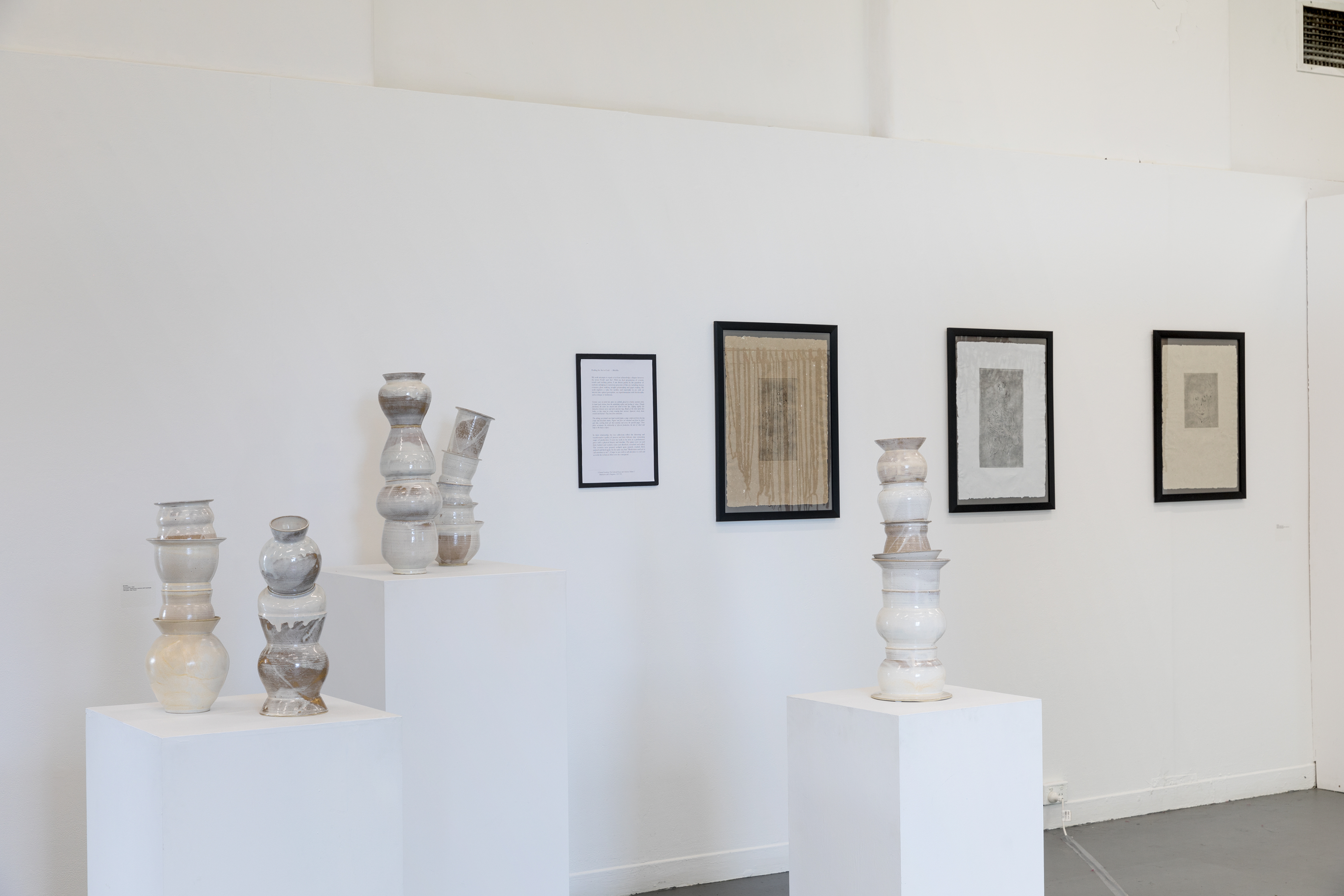 What I find most intriguing about this exhibition and particularly Lesosky-Hay, Foldvari and BoheMia's works is that the materials themselves are offered agency, separate from the narrative put forth by the formal sculptural impact within the immediate gallery space. Temporality is given form and voice. Here time is not just an abstract concept rather a visible mechanism within each of the works.
Kayla Flett is a writer based in Naarm/Melbourne. She recently graduated with a Bachelor of Art History and Curating from Monash University.
Kayla Flett is a writer based in Naarm/Melbourne. She recently graduated with a Bachelor of Art History and Curating from Monash University.