Bachelor of Fine Art, MADA
By Ella Carney Fisher
Human connection is the string that binds us tightly to each other—but like any string, there is a risk of relationships fraying and splitting apart. After the last few years of enforced social distancing, the absence in our hearts has grown fonder as we have sought out familiarity and intimacy. In works that resonate with this experience, MADA graduates Ashley Lavoynne Silaen, Therese Dias and Eliza Kate Raphael Dalton have used their materials to evoke a sense of social connection via techniques of embossing and engraving.
Embossment imprints the contours of an item onto paper without revealing exactly what that item is. Using this ghosting technique, Silaen evokes the human body and its intimate details. Each embossed square of paper in kenal: sentuh looks like a microscopic image of skin, whose patches of dryness, crevices and wrinkles have left a network of impressions. Silaen's collection of these squares has been organized in stacks reminiscent of epidermis layers. The grooves that have been left by the embossment allow adjacent sheets of paper to sit closely on top of each other, evoking the sense of closeness that one feels when touching a loved one.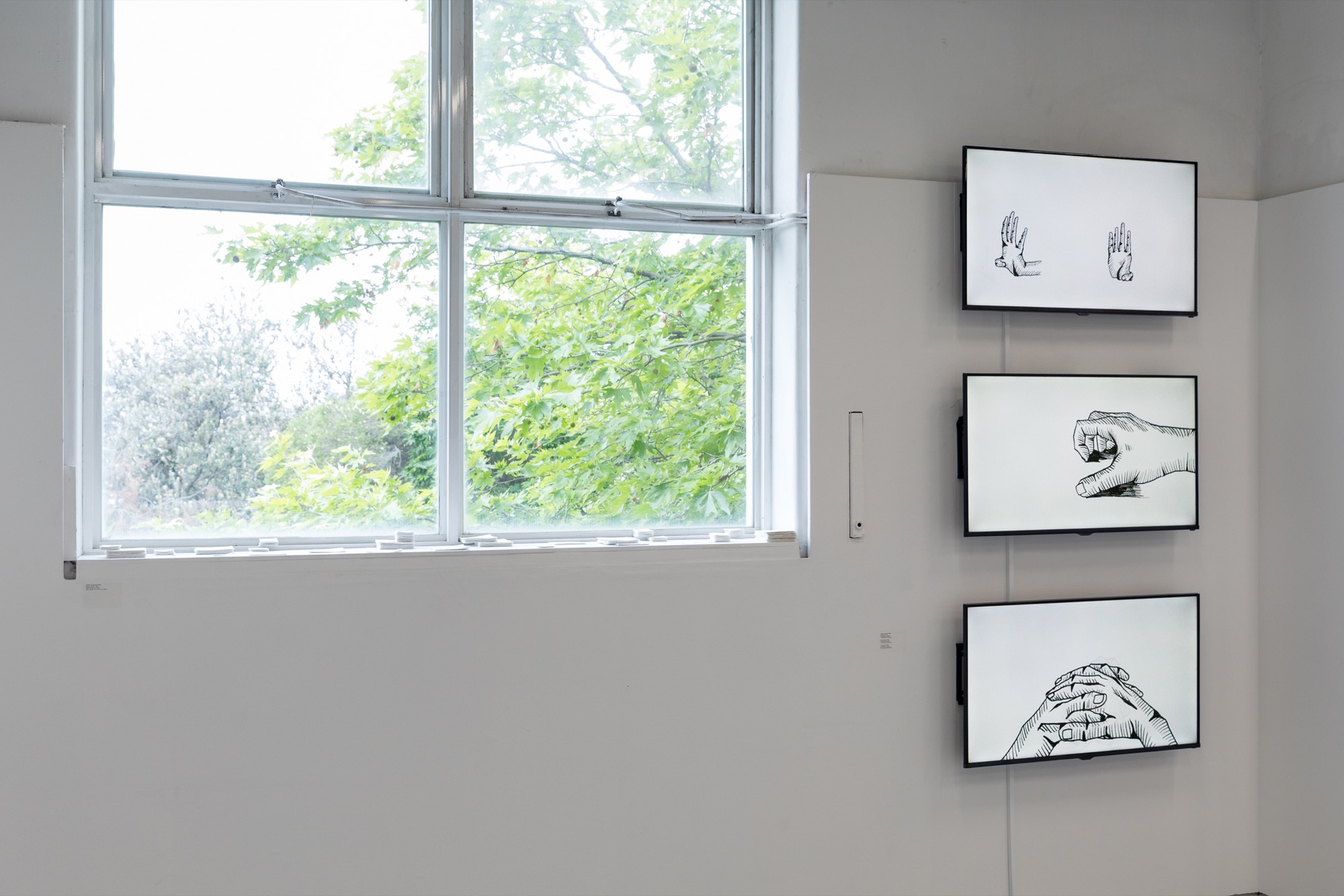 In the animations that Silaen has paired with her papers, a pair of hands move around the frame, dance with and touch an invisible partner. A blank space exists where the partner would be in a hug or a dance. By introducing this implied presence, Silaen allows the viewer to feel connected to the unidentifiable pair of hands, engendering a feeling of comfort.
Seeking human connection in inanimate objects would lead one to the work of Therese Dias. In An Unseen Series, Dias uses embossment to retain the impression of historical objects. Each aged piece of paper in the work predominately depicts what seems to be a piece of French historical architecture. However, there is one odd page out, from which the ghost of a face stares out.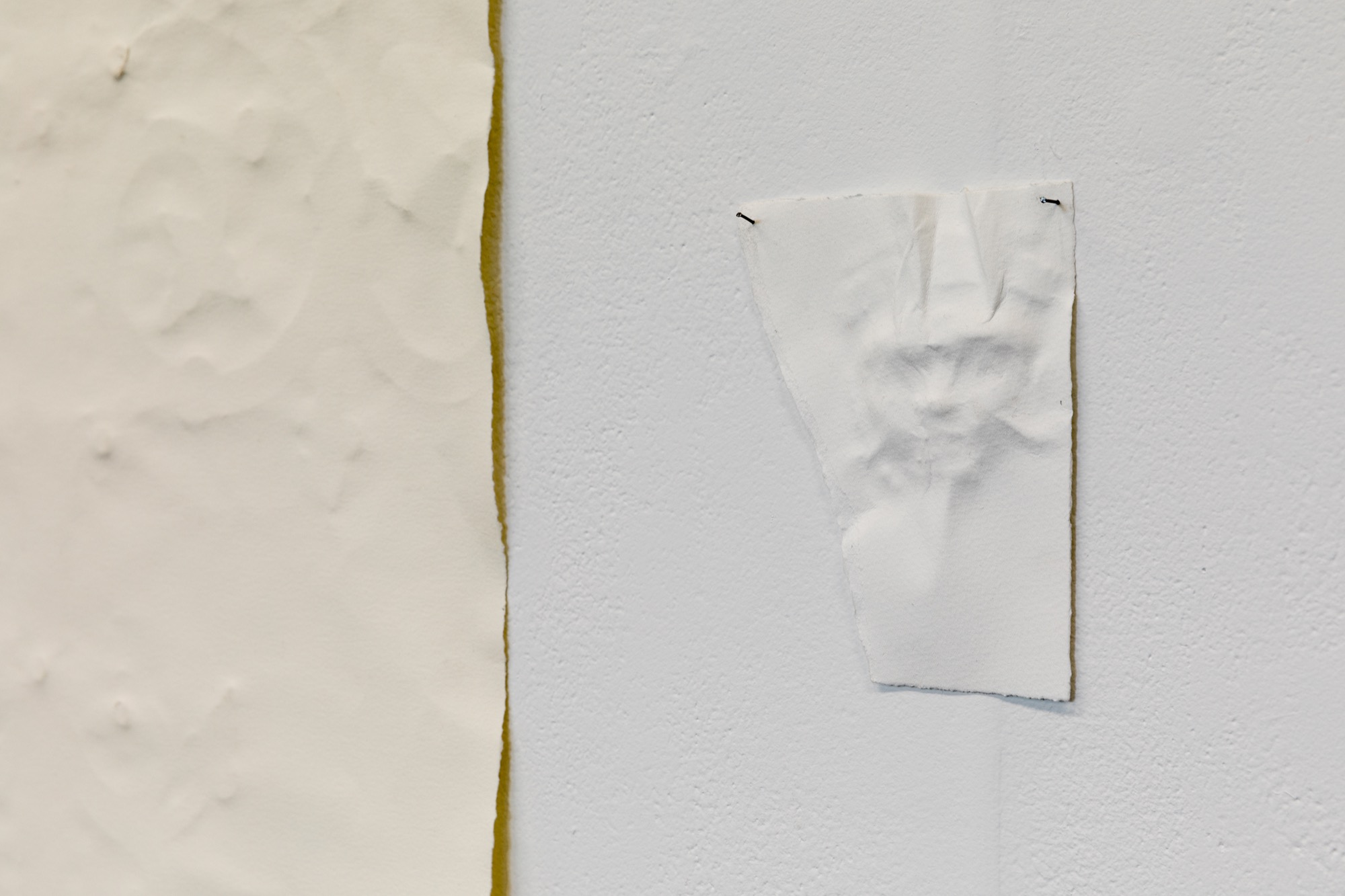 Dalton's Label of love presents a collection of glass panes of various sizes, colours and finishes, each etched with a list of words that seems to describe a personality. Griever, pleasure seeker, self-determiner, reminiscer, enigma and explorer are among the many descriptive terms that feature in this library of traits. Together, the panes describe people important to Dalton as she explores what connects her family members both to herself and each other.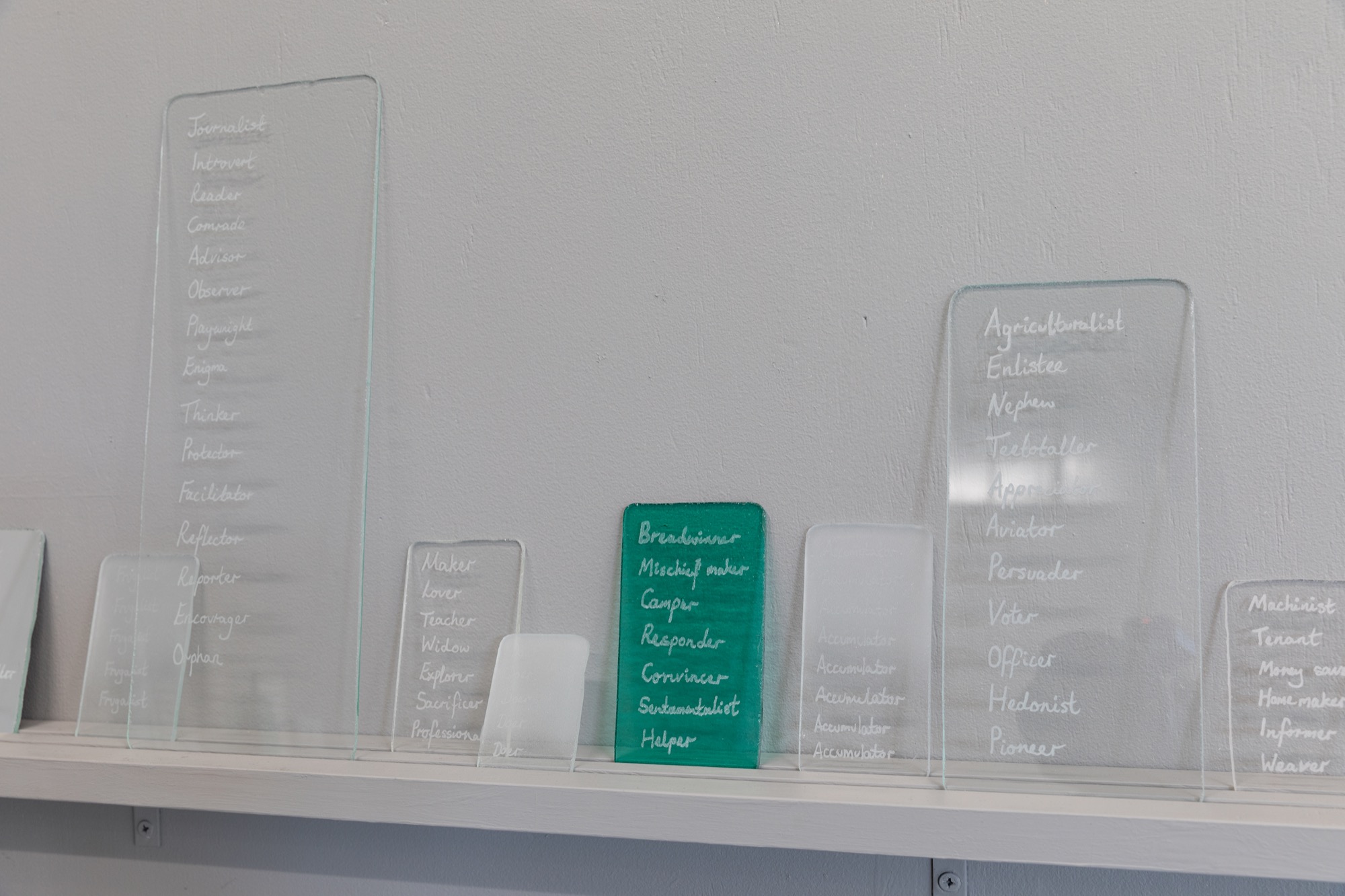 These identities have been engraved by someone violently scratching away at the fragile material to leave a permanent mark. Particular frames have been frosted, and words made illegible, hinting at the making over of personality or the fading memories of a loved one. How permanent are we really? Mirrored entries catch the viewer's reflection and eye, who may begin wondering where they would fit into the library.
Is our only way to be remembered through how we interact with others? What impact do we have on those who are important to us, especially when we aren't there? The works of Silaen, Dias and Dalton suggest many answers to these questions. However, all three suggest that absence isn't emptiness.
Ella Carney Fisher is an emerging writer and arts worker based in Naarm (Melbourne), completing a Bachelor of Art History and Curating at Monash.