Bachelor of Fine Art, MADA
By Hannah Searing
Sarcastic softness and the unconventional domestic fill MADA Now 2022. A number of artists chose to express their talents through handmade soft sculptures, embroidered tablecloths and sprawling crocheted organisms. A sense of whimsy and humour masquerades an underlying theme of disillusionment about graduating, and the artists use of nostalgic practises like hand-embroidery and crocheting lull the audience into understanding their labour-intensive efforts. Artists Sophie Shingles, Manuela Machado Colling and Liat Fichman shine in harnessing sincerity, using a variety of domestic textures to convey their own memories, feelings and thoughts.
Sophie Shingles' Dine With a Hedonistic Dyke (2022) dominates: a large empty table is covered in a handmade patchwork tablecloth, laboriously embroidered with personal messages. The titular hedonistic dyke invites us to stay and feast on every intricate detail. Shingles brings to mind ideas of community and family, a large grand meal and an expansive diaristic retelling of someone's life. Cleverly, the patchwork alludes to important precedents such as the AIDS Memorial Quilt of the 1980s, while the granny squares also convey a sense of nostalgia.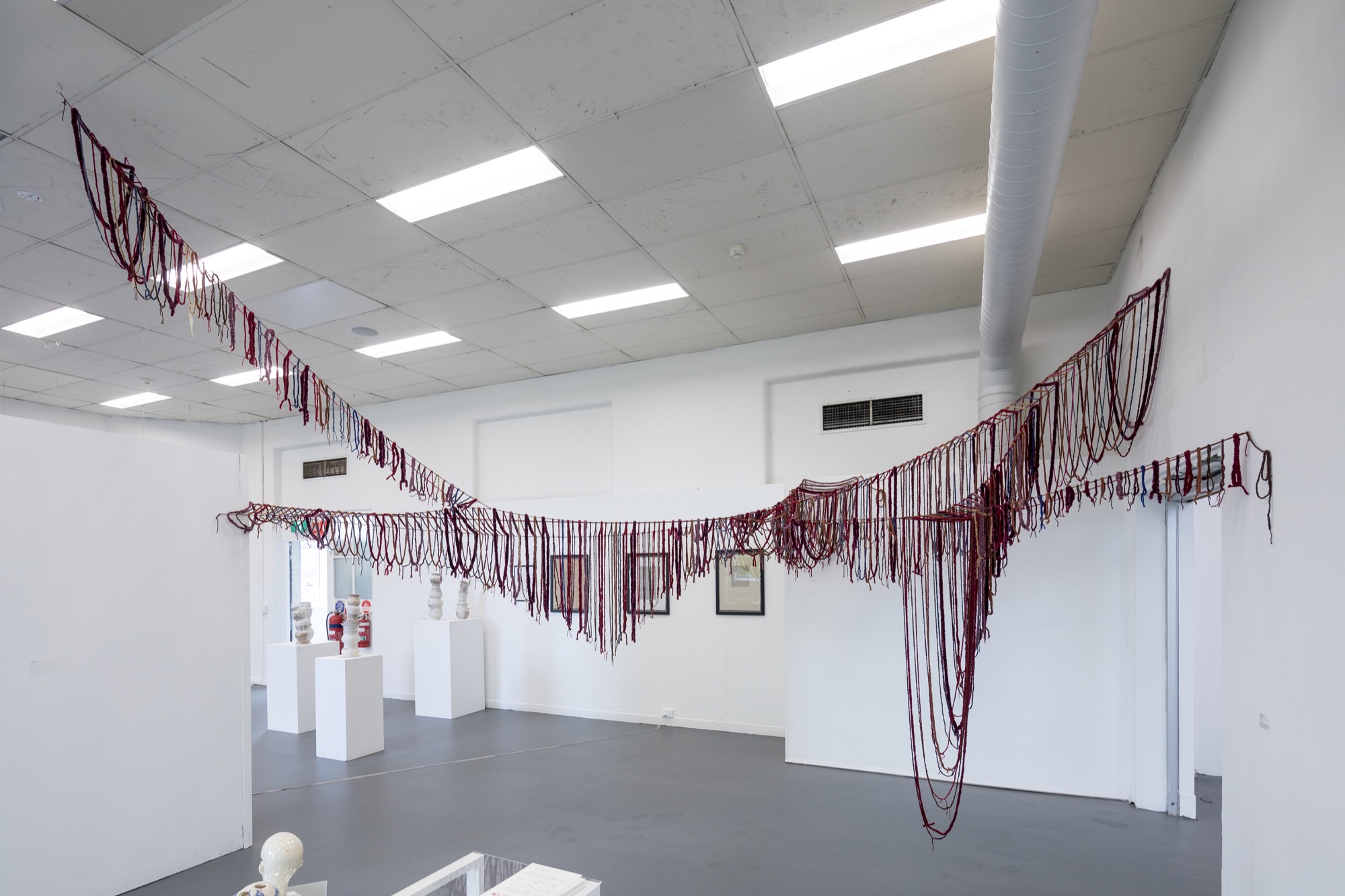 Sprawling throughout an entrance into one of the exhibition's rooms, Materialising Moments (2022) by Manuela Machado Colling is an expansive sculpture comprised of hand crocheted chains in tones of pink and purple that recall flesh and veins. The tunnelling nature of the sculpture and its position above the viewer means it can be viewed from various angles and appears to grow of its own accord between the walls. The artwork feels organic, like a nervous system or a spiderweb, and it invites the viewer to be swallowed by this materialisation of Machado Colling's growing intertwining thoughts and memories.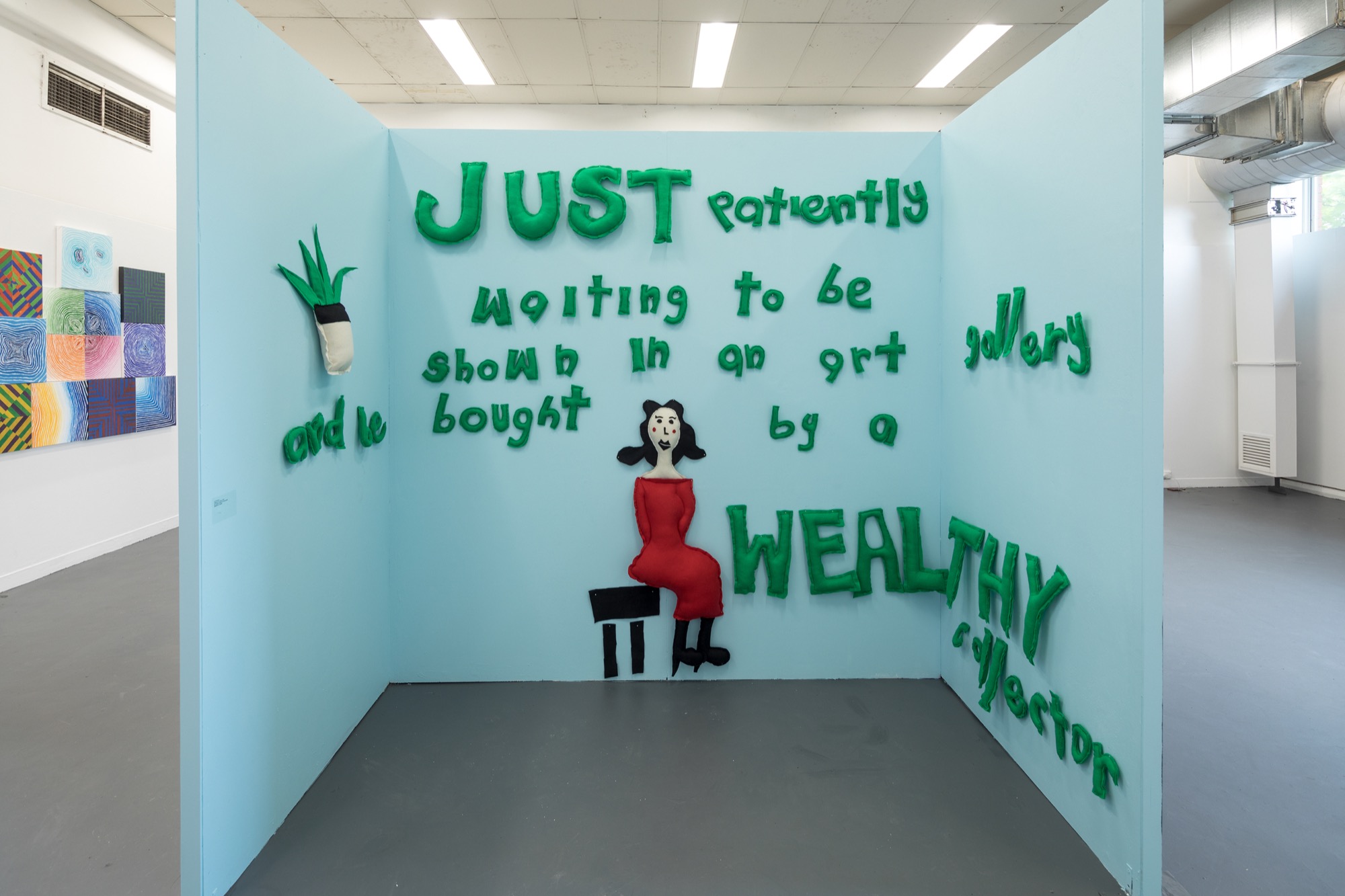 Bright, bold and sarcastic, Liat Fichman's two colourful wall mounted soft sculptures pack a satirical punch. Patience is a Virtue (2022) depicts a quaint woman amongst soft blue walls, her wish to be bought by a "wealthy collector" surrounds her in a cubicle-like prison as she stares patiently back at the viewer. Success is an Attitude (2022), and its pastel pink wall creates a vibrant entrance to the second floor, expressing a sarcastic concern over job prospects after the years of work in university. Both artworks lure the viewer in with pastel colours and soft handmade comfort: a cute little cat, a simple house plant, and a computer create a sense of domesticity and (Covid) normality, yet both artworks possess a humorous but honest take on the anxiety of being a young graduating artist, connecting to the viewer on a deeper level of sincerity.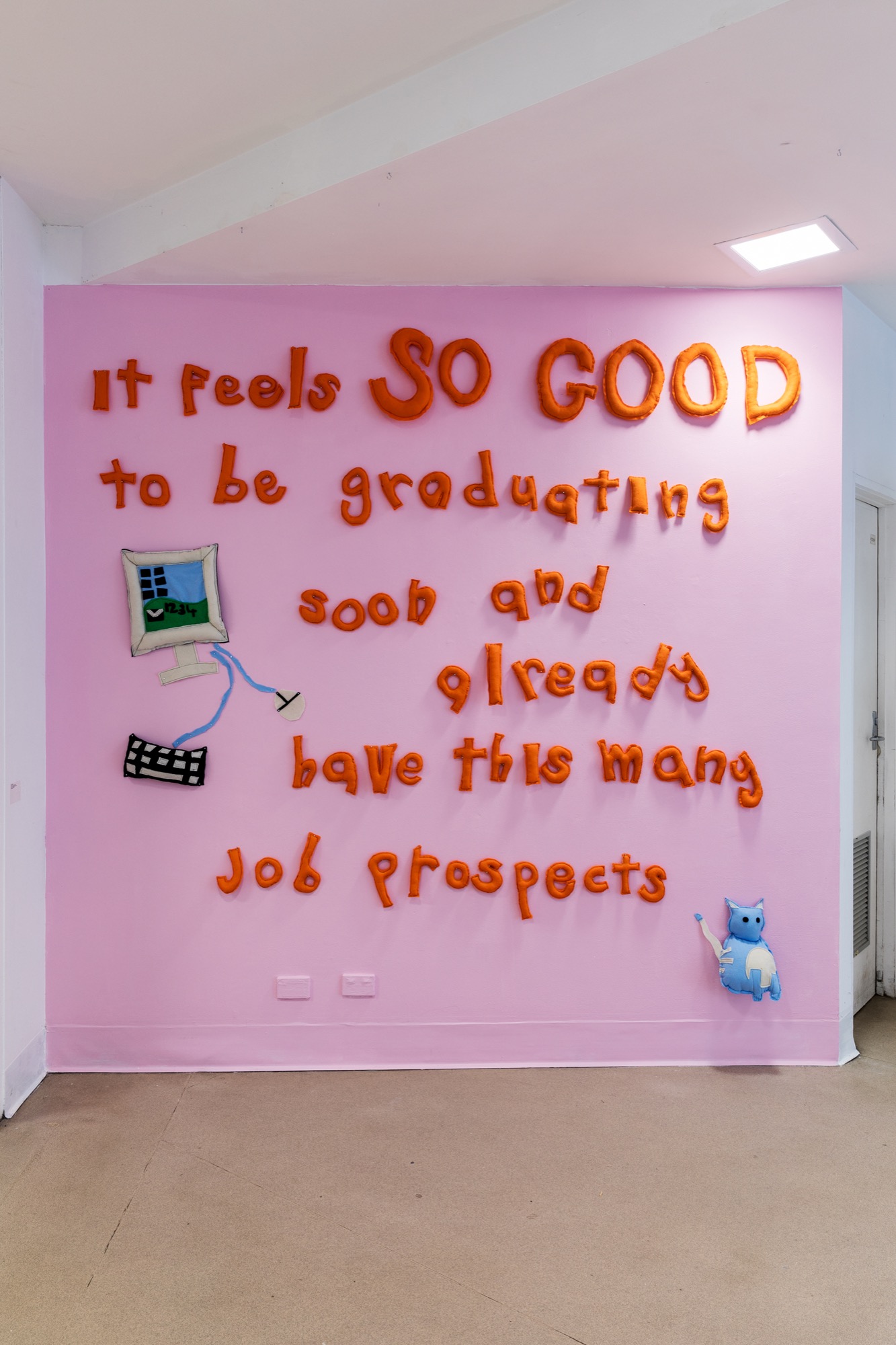 The gentle nature of these three artworks is what stood out to me most. Each of the artists has captured a sense of familiarity through texture, their artmaking methods and themes that rely on the inner workings of their minds. The intense level of detail and effort in these works should also not be lost on any viewer. Sewing, stitching, and crocheting take significant time and skill, and have been utilised here as a physical manifestation of how each of the artists is thinking through the end of their degrees.
Hannah Searing is an emerging writer and curator based in Naaram (Melbourne), graduating a Bachelor of Art History and Curating from Monash.