Bachelor of Fine Art (Honours), MADA
By Agnes Delany
Maybe it's just me. A simultaneous mood of emotional outpour and complete detachment feels palpable in Melbourne at the moment. It's this mood that seems to inform my interpretations of the work in the Monash Honours Graduate show. Sign of the times, I'm caught between the two.
Initially, I am admittedly confused but nonetheless taken by Nicola Blumenthal's pink calamine canvases and mirrored shiny pink DREAM cutout. There seems to be a decorative, girly, deliberately aestheticised feel to the installation which I am less used to encountering amongst young Melbourne's so called "grotty" art. The kitschy, upside down, pink DREAM evokes some sort of disco lit Gertrude Street bar, or Collingwood house party in which none of your friends know the host, the kind of interior object that might generate some ironic instagram post from a certain crowd.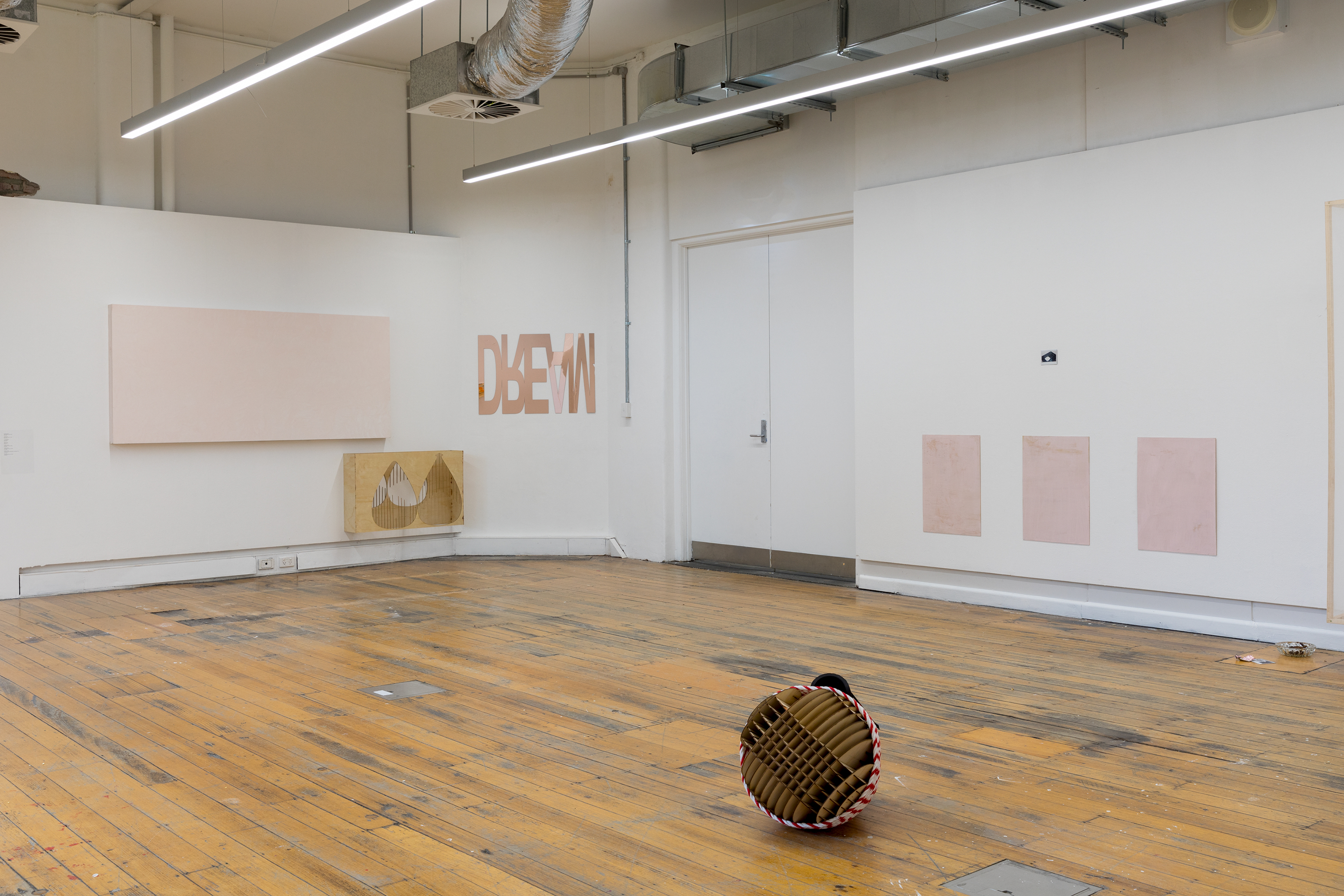 I am relieved when upon closer inspection I notice some comfortingly familiar (and slightly grotty) objects strewn across the floor: a crystal ashtray littered with a congealed brown clump of damp cigarettes, lost of recognisable shape, evoking share house laziness—ashtrays left to the La Nina downpour, fossilising until someone ventures to clear it away. Adjacent to the ashtray, the faithful pink foil bottle-top wrapping of a sparkling rosé, strewn on the floor amongst a scattering of indecipherable polaroids. My eyes drift upwards to three half full glasses of rosé, which also appear to have endured a night in the elements. I know these things well.
On my second visit to the gallery, I notice a duct-taped shard of pink mirrored glass leaning against the wall which appears to have detached from the DREAM ornament. This detail unravels the quaint aestheticism of my first viewing. I comment as I'm walking through the show that Nicola's work to me is an instantly recognisable, clever and somewhat deceptive snapshot of the femme-ADHD- libra-chaotic girl- I say this in a joking tone, but am soothed by encouragement that "I should write that". I'm sure there's lots I'm missing, but when I went to meet Nicola to discuss her work I found her in the Baillieu Library completing an overdue assignment; she confirmed that she is in fact also a Libra.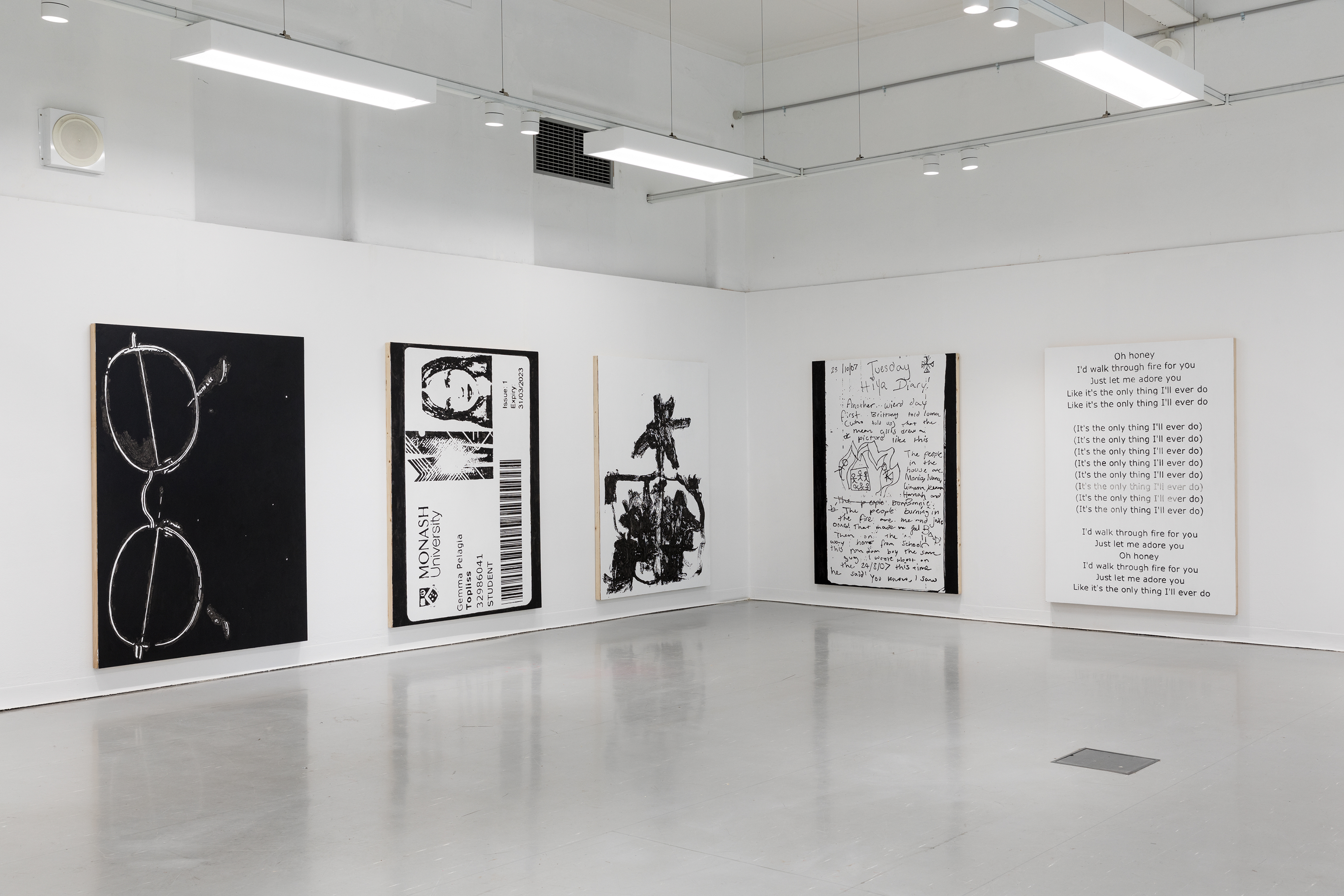 As I venture through to Gemma Topliss's black and white paintings, I initially digest what appears to me as a self-referential collection of melodramatic teenage diary lamentations, a student ID self portrait which sits next to a painting of Gemma's glasses, even a transcription of some crush heavy Harry Styles lyrics. These symbols of a torturous crush, female narcissism and self reflection feel refreshingly sincere to me, despite a stern impenetrability. The paintings seem boldly confessional and diaristic, teenagey and comforting but also menacing and uninviting. I'm unsure whether to interpret them as earnest self portraiture, emblematic of the forced looking-inwards that has been inescapable over the past three years of relentless social isolation—perhaps I am missing some irony, a deflection of personal emotion which is instead more culturally loaded. I have been told that "not many of the paintings in the show are earnest". Even whilst writing, I cringe at my own earnest interpretations of the works. They seem bravely honest.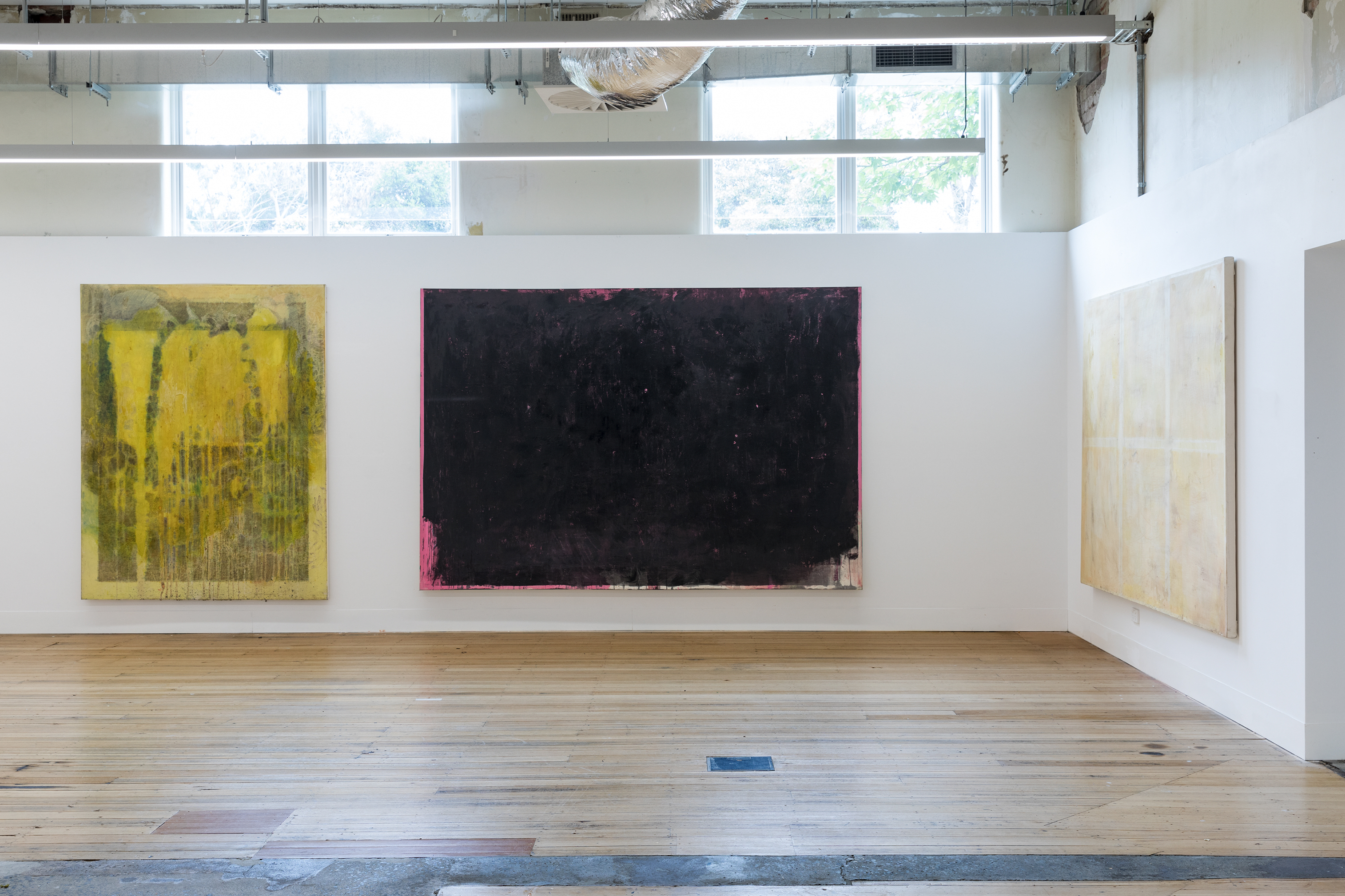 Caesar Florence Howard's arrestingly moody paintings are striking in their dark and brooding tone and spatial mass, a noticeable change from the softer, more delicate and floral paintings he exhibited at Hyacinth and his VCA Grad Show. Despite this, they retain a gentle sensitivity which I find hard not to feel from my conversations with the artist. The works, with their intricate surface texture and painterly inflection could perhaps be viewed as a sincere engagement with late modernist painting—on the other hand they could be, as I half-jokingly discussed with a friend over a plastic cup of prosecco at the grad show opening, Caesar's mysterious, brooding breakup album. The hot pink canvas overtaken by black feels to me like some kind of Scorpio existential lamentation.
In all three installations, I cling to what I interpret as a series of emotive confessionals, emblematic of internal angst and assessment of self. Perhaps they represent an objective reflection of our Melbourne Microcosm, one in which we all seem to drown deeper into the pool of our own emotional projections.
Agnes Delany is a writer studying creative writing and art history at the University of Melbourne