Bachelor of Fine Art (Honours), MADA
By Luce Nguyen-Hunt
There's nothing that quite breaks up the abundance of abstract paintings and found object art like an unapologetic display of queer fuckery. In this year's Monash Honours graduate display, I found myself drawn to the humorous gay/twink propaganda, blatant homoeroticism and fat ass cheeks gorilla-gripping tight budgie smugglers.
At 7:45 pm on the opening night of Monash's MADA Now, a crowd gathers in anticipation of Izzi Selfe's performance, BEEFY BEATDOWN. The space is decorated with chrome and metal elements, both permanently cemented in the architecture and strategically added by the artist, Izzi, who I can only describe as a chrome fetishist. The commentator, Roy (played by Jerome Javier) steps up onto a small stage, with the most gawjus face beat I've seen all night. They start singing, "it's a gathering, it's a gathering song…" until the crowd softens.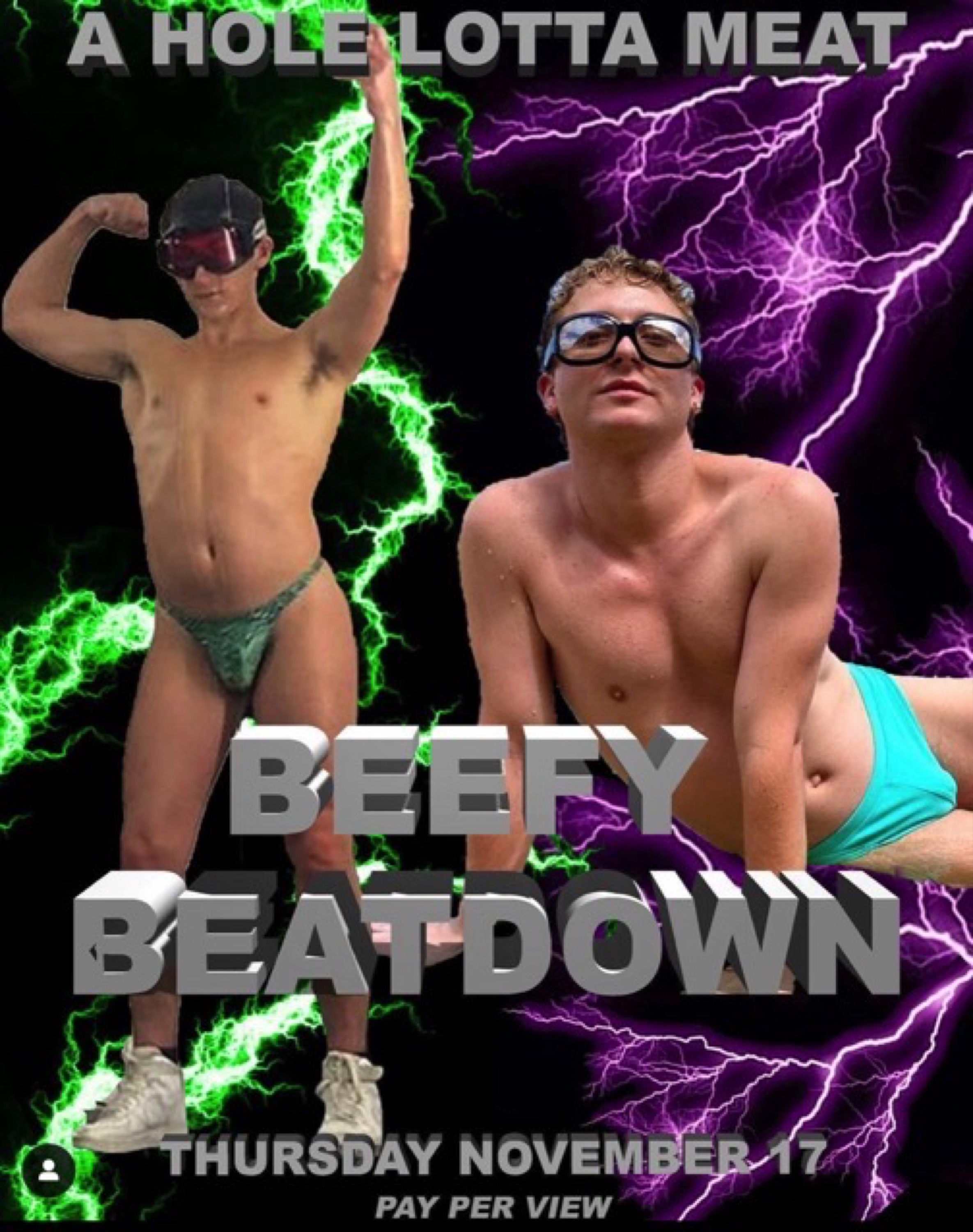 Combining tropes and stereotypes from queer and gay culture whilst exploiting the obvious homosexual undertones of wrestling, The BEEF (Clarrie Lock) and Miss Mindy Piggy (Oliver Sievers) battle it out. For the finale, The BEEF lifts Miss Mindy Piggy up over their head, proclaiming "I'm about to put this pig on a spit!" We watch on as Miss Mindy Piggy's skinny white body slams onto the mat, The BEEF spreads her legs and they begin to pash, touch and moan. I can hear my queer friends screaming and laughingly joking, "THINK OF THE CHILDREN," as Helen Hughes and Alicia Frankovich's kids continue to watch on from the front row. This is the early education we all needed xx.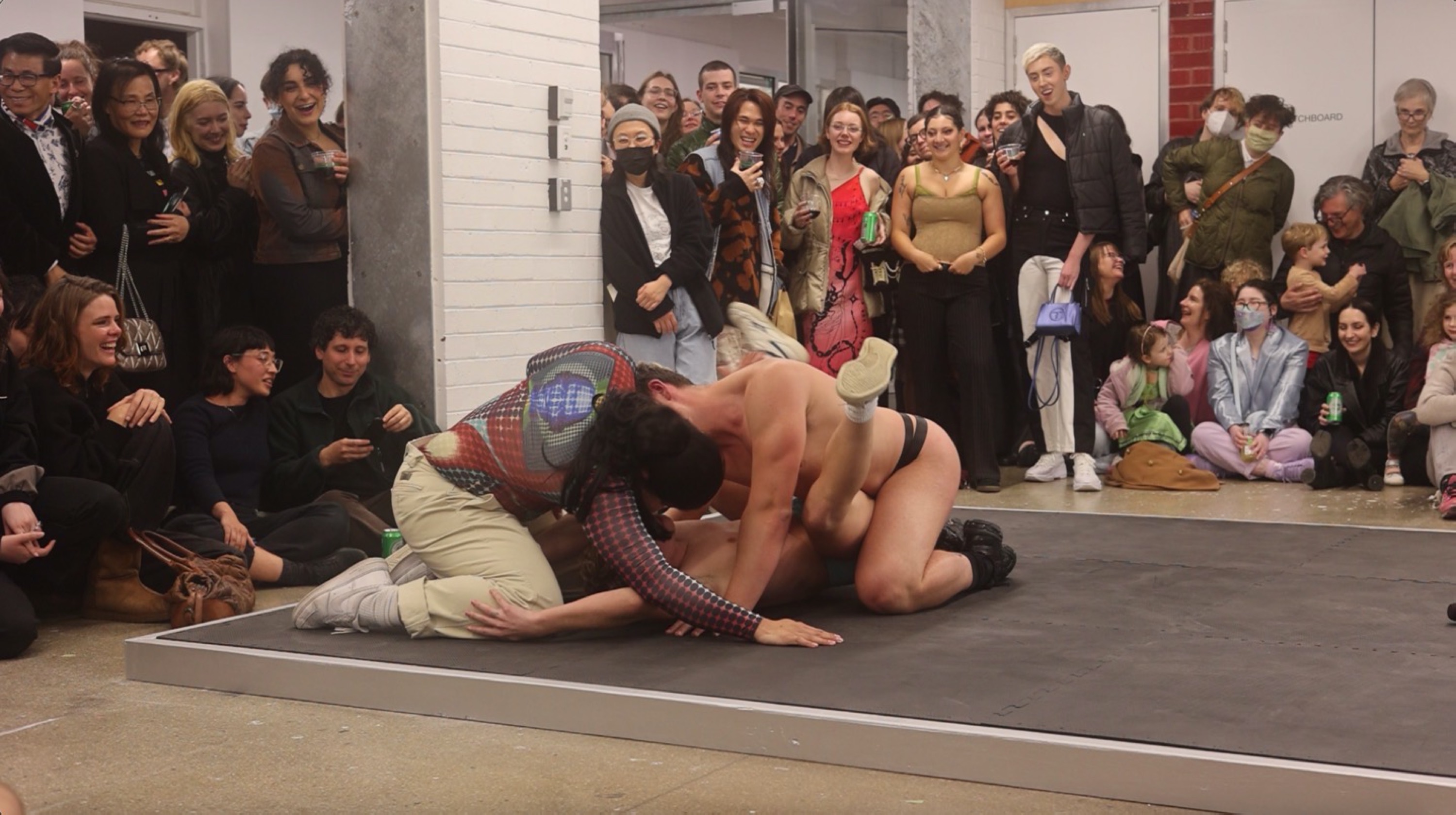 The entire performance was so extra and over the top, while ridiculing and making light of the hypocrisy of cishet displays of hypermasculinity. We witnessed the feminising, sexualising and queering of the performative alphamale archetype, left reminded of how absurd he is to begin with.
Indra Liusuari, one of the artists curated in Angela Anqi Liang's exhibition, Screen Densities, lives in the same building as me. It feels very Friends or Sex and the City but if the cast were queer people of colour. I always find myself leaning closer when Indra tells me about their ginger daddies, and watching the video component of their installation echoes similar feelings. With previous studies in architecture, Indra incorporates cement and metal elements into their installation, alongside neatly laid out still images from the film. I connected most with the segment of the video where Indra bursts into song. Interrogaysian reminds me of the default song on an old karaoke set. They sing:
aiyaya
i'm your little asian twink
make your fantasies come true :)
where's my white boyfriend
Indra's manifestation powers really do work, since I saw their white boyfriend at the opening.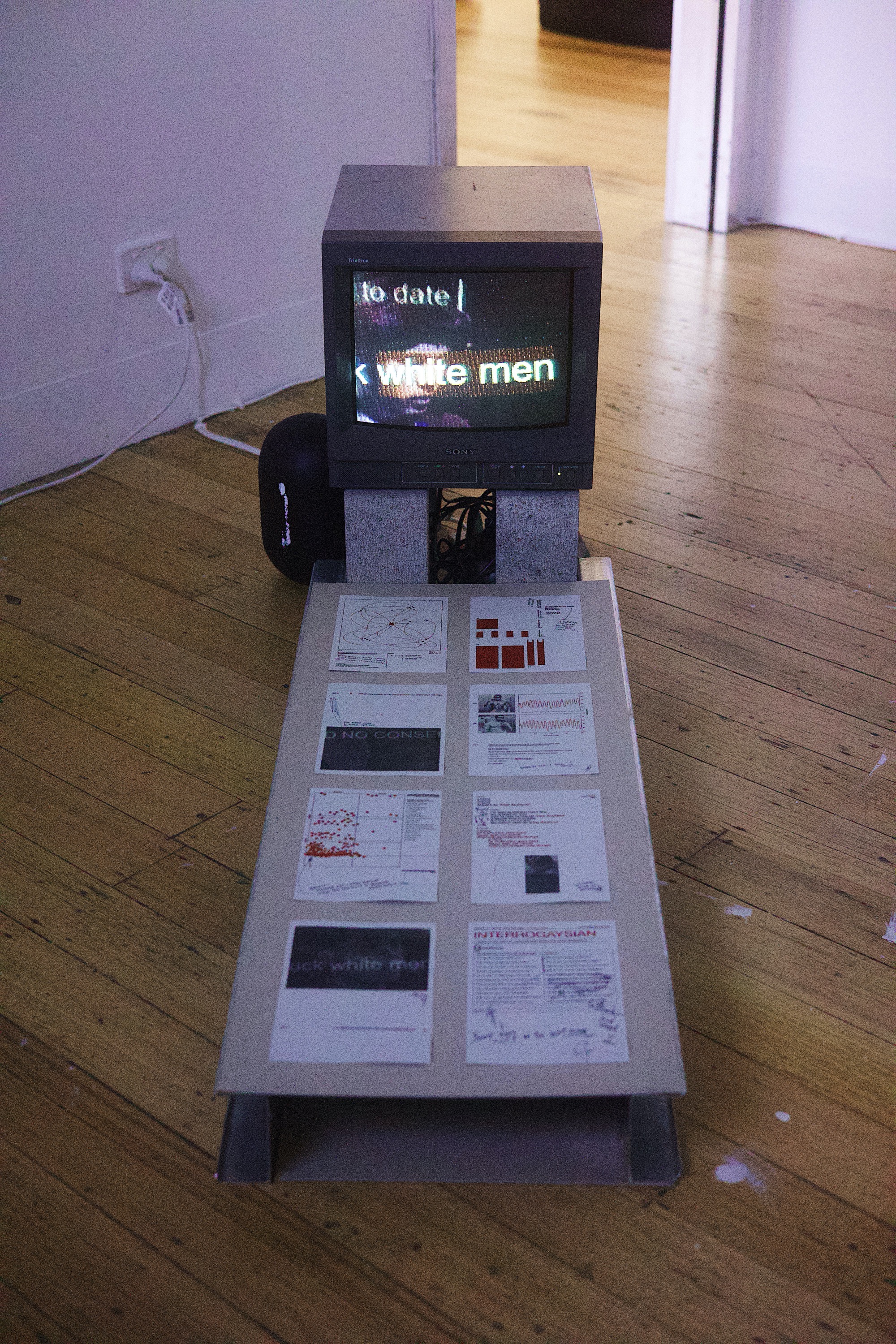 I love that Indra's work doesn't stray far from who they are outside of their y2k-reminiscent video installation practice. At least she's consistent. I think Indra's playful humour and desire to objectify themselves is one of their greatest strengths when it comes to subverting their politicised body and identity. Indra won't allow audiences to fetishise them as well as they can. This act of self-exoticisation in an absurd and overly-stereotyped way aids in repositioning colonial power by mocking it. And I for one can't help but laugh along.
Luce Nguyễn-Hunt is an emerging Vietnamese, Sāmoan and Rarotongan artist currently based in Naarm. Their research-based practice documents an evolving cultural gender-sexuality divergence through digitally manipulated moving image and photography installations.