Honours, Victorian College of the Arts
By Sueann Chen, Rory Maley
"To become invisible, one has to become smaller or equal to one pixel", Hito Steyerl cautions with a robotic didacticism. In this year's VCA grad show, surrounded by the staggering amount of work, we truly felt invisible, like a pixel traversing through the Stables. The divergent curatorial displays of the honours graduate exhibition has drawn us to focus on our physical relationship with the world through the nexus of mapping and data rendering. In the digital age, Google Maps and Earth Street View technology have fused with our everyday perception of place, architecture and space. Artists Yvette James, Liv Moriarty and Pang Jieh Siah (Sunny) have engaged with Google data as a live medium, grappling with its unbalanced physicality, always watching and yet invisible. 
On the ground floor of the Stables lies a piece of A4-sized grey steel coated in the oil marks of fingers and palms, like greasy stains on a computer. It is Yvette James' Your Data is an Organ (2021). Shrinking into a ghostly yet oily trace, James' body wastes away from the hypervisibility of our existence in the collection of our invisible data. The sculptural typing work, an almost ready-made, shows an awareness of data storage and a returned glance at Google as a physical entity. Perhaps the work is a sort of shared performance, with James typing out the location codes in which data is stored, in part owned and produced by the artist, like a code to an offsite storage locker. We felt a heaviness from James' oily materialisation of the Google data, making a poignant comment on the invisible permeability and saturation of data secreting through our bodies.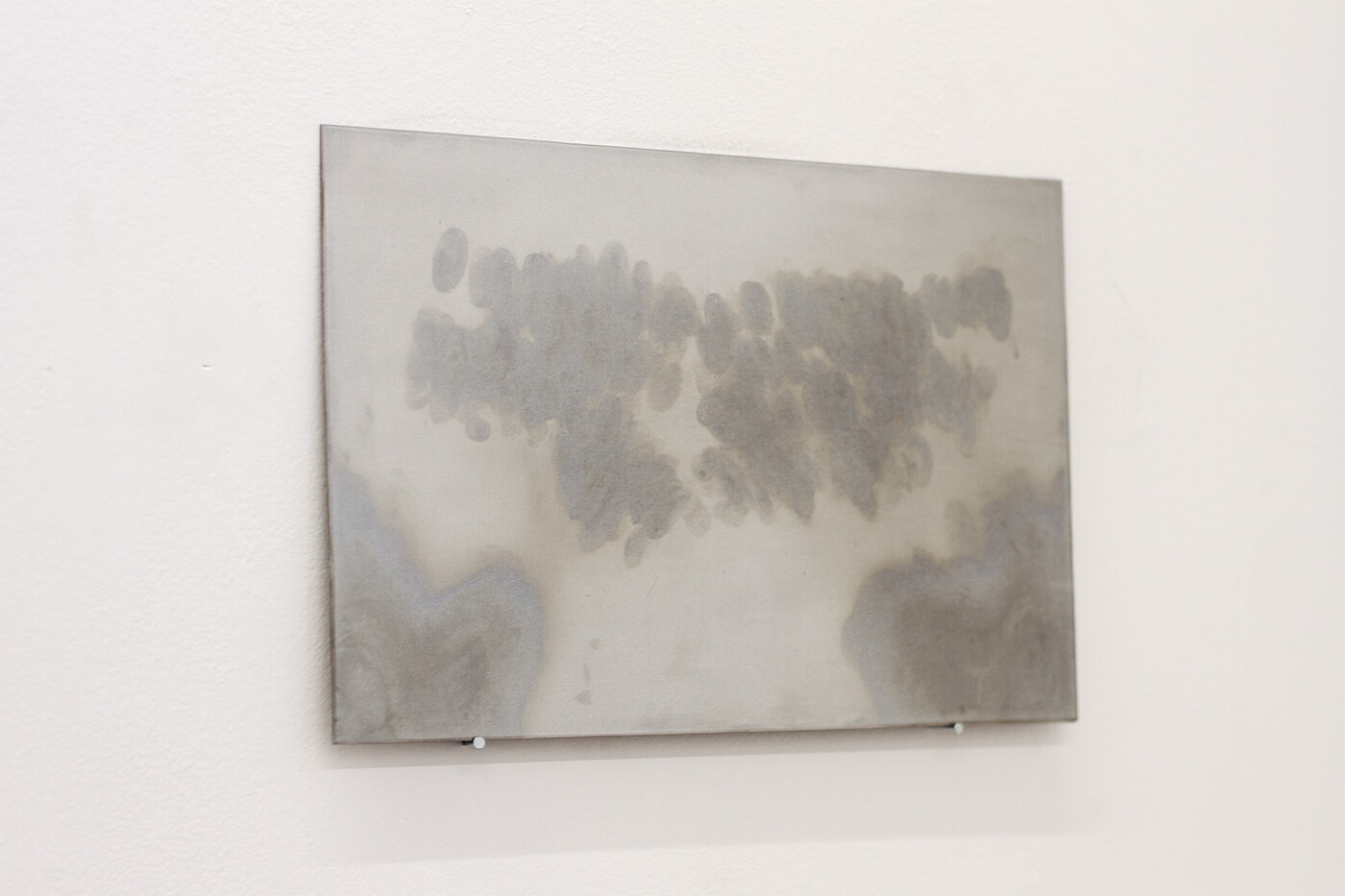 The video in Liv Moriarty's You are Here (2021) navigates the interfaces of perception, computer to human, person to person, sky to ground. Moriarty locates themselves within walking point-of-view shots, abstracted angles looking up at power lines and birds and then later within a fast zoom from a Google satellite map. The work plots imaginary points over the map, assuming that the central nexus is their house, and the other points are arbitrary unless displayed at the exact scale at which they were marked. The central point is the focus of the view, zoomed in as close as perceptible by the technology, not quite enough to make out a person. Signified with urban instructional floor markings, Moriarty urged our bodies to traverse and encounter time and space, imagining the patterns of movement seen from above. The markings would be large enough to register in an aerial render, reminding us of Steyerl's cautioning of the visibility of human activity within digital imaging systems. 
Is Google's view more like a bird's than a robot's? Pang Jie Siah's Google renderings suggest not.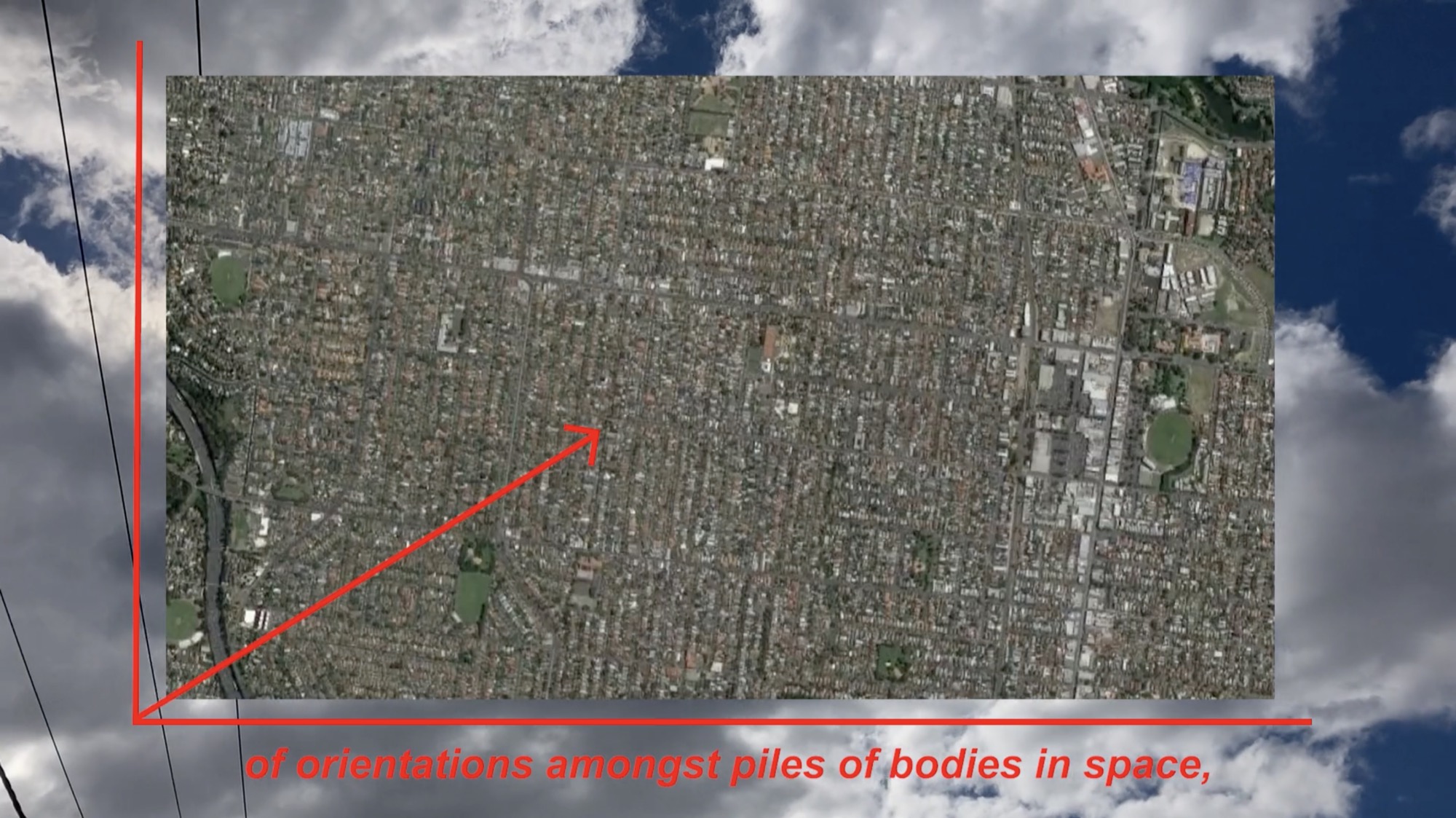 Encountering Siah's work upstairs felt as if we had finally arrived at our destination. The dreamy and elusive soundscape of electronic synths in Siah's work echoed into the whole bottom floor of the exhibition. Siah's Somnambulism Aperture (2021), a low-res digital video work, reminded us of our Google anxiety, of making directions to a house a few doors up and to refuse to type in our actual address into the app, and of turning off accurate location pinning services. By refraining from handing over any geo-location data to Google, we wanted to be invisible, smaller than a pixel, shrinking with no trace. In Siah's awkwardly rendered 3D landscapes, the structures take on distorted forms, missing pieces, filled in textures generated by algorithms. They feel strange as we walk within the landscape, lobotomised to robot perception, minimised into a poor image. Here, it is clear that Siah grapples with the physicality of Google Earth as a live medium.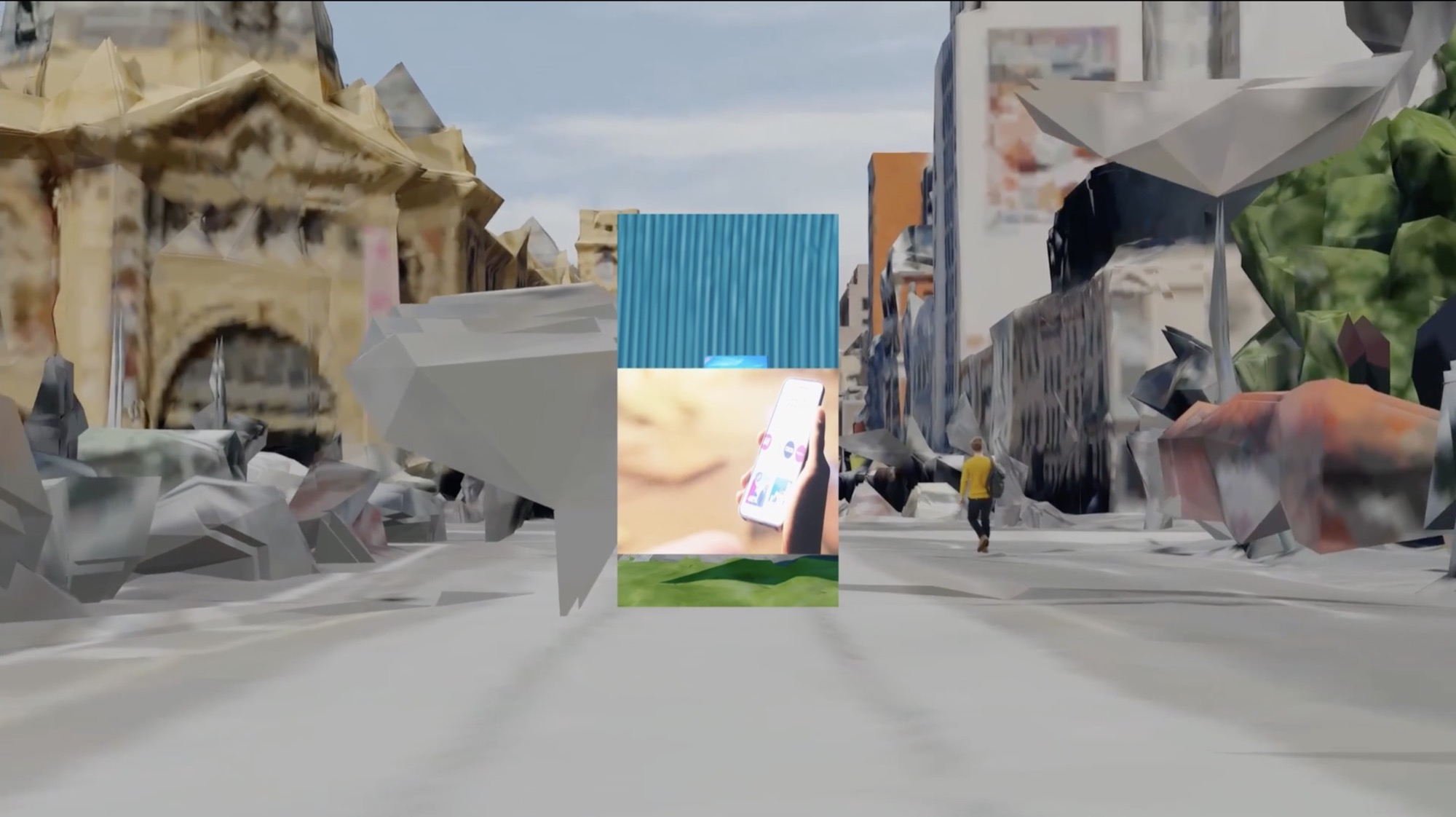 As we have witnessed and learned more about the perils and depth of Google's data monopoly, is it submissive to turn a blind eye and relinquish our body to data in exchange for the accuracy and ease of technological integration with Google? In our reality, is it possible to be invisible? Will we all be immortalised as three-dimensional ghosts and traces in the background of architectural and landscape renderings of Google Earth Street View? It makes sense why James, Moriarty and Siah were drawn to Google's renderings of the world. Google Earth has the capacity to unveil the intangible, the distant and the unknown. And in the same way, their work flirts with the invisible omnipresence of human activity.
Sueann Chen is a writer and cat owner living and working in Naarm (Melbourne), currently completing a Bachelor of Art History and Curating at Monash University. She is interested in Contemporary Asian Art and its exhibition making, and the intersection of globalisation and trans-national cultural practices within the Third Space.
Rory Maley is an artist, walker and cat owner who graduated Monash University Fine Art (Honours) in 2021. He walks around Naarm (Melbourne) every day looking for piles of mulch, gaps between buildings and tunnels. Maley builds immersive installation structures for corners of galleries and bottoms of fire escapes.