Bachelor of Fine Art (Honours), MADA
By Beatrix Brenneman
A map can be a key that opens up to the warmth of connection between friends, family and lovers. Map-like forms appear in the work of Emma Nixon, Kathleen Formoso, and Rory Maley. In each instance, maps chart the impulse to understand through documentation. I anachronistically read into their works while relating back to my memories. A map is a mirror and a window all at once.
Emma Nixon's epistolary Like Pavlova For My Soul is a map of friendship. Correspondences between Nixon and four artists, held together with paper-straw-clips, printed on A4 paper in multicolour ink, are splayed across a stained MDF table. One more letter, between two lovers, sits beside its small green envelope. As a curatorial project, Nixon intersperses letters with artworks and photographs as vessels for connection. A painted sunset, a fridge-magnet-portal, a book delineating the habits of cats and friends. Nixon invites you to leaf through her letters. Leads you to take a seat, to share, to take a bite. I'm left with the lingering feeling that I've stolen a little bit of her. The map of Pavlova reveals the direction Nixon and the six other graduating artists might take. She holds space for the grief that contextualises where they are going. It's bittersweet.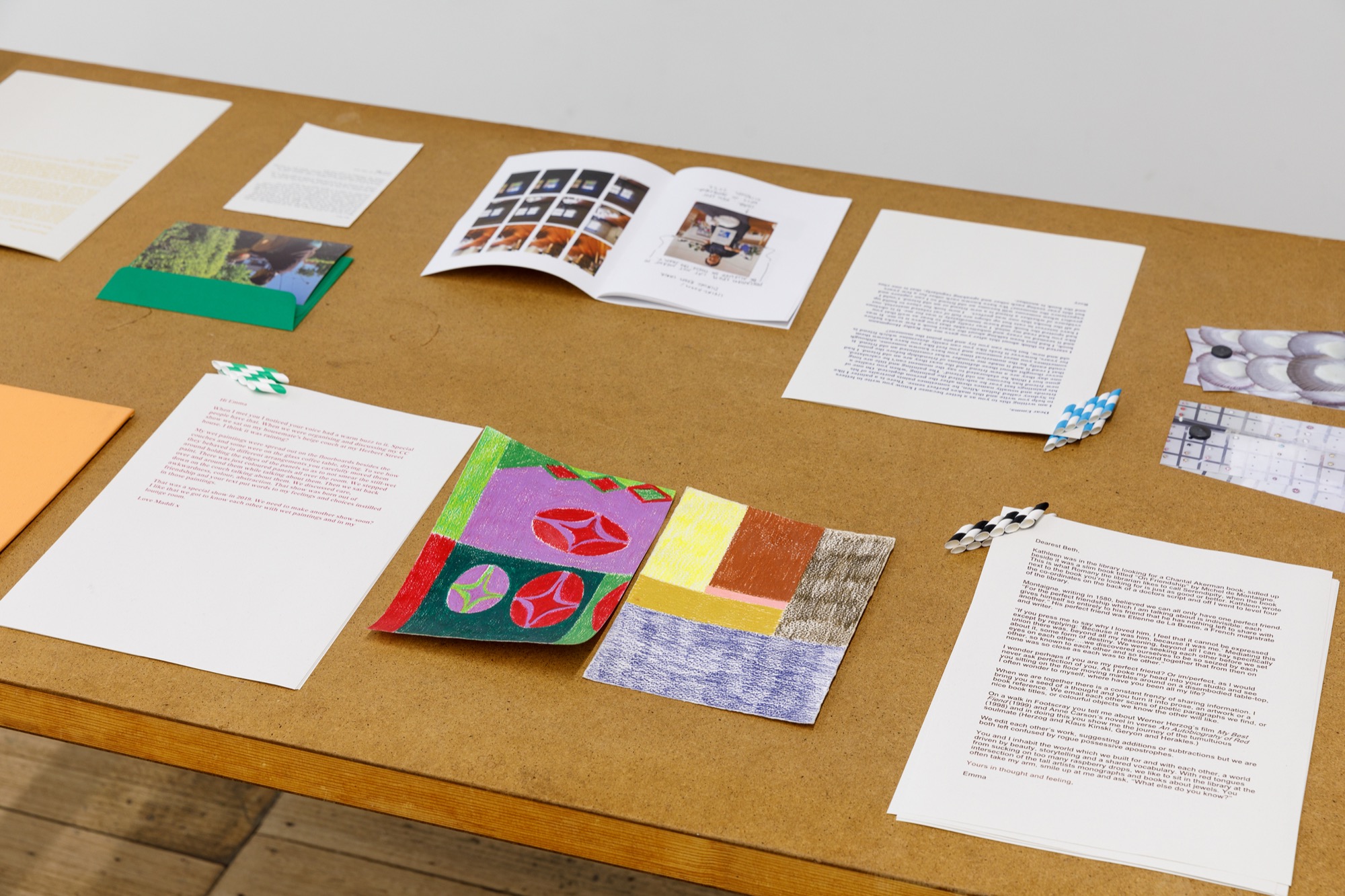 I got lost in Kathleen Formoso's Home Matters, a slice-of-life single channel video engaging in the documentation of home. I steal away visions of her grandparents' lives as I watch. Knitting, coffee boiling over, the television as background noise for sleep. I think, my nonno and nonna are exactly like this. Formoso's project unifies her work as a nurse with her art practice. Documentation of art therapy activities become musings on love and memory, overlaid with stories and poetry. Connection is foregrounded as Phillip Larkin's poem voices over the final scene of her grandparents sleeping: "give me your arm old toad". These scenes of sleep unite the opening and closing of Home Matters, mapping rest as the commonality between the two culturally distinct sides of her family.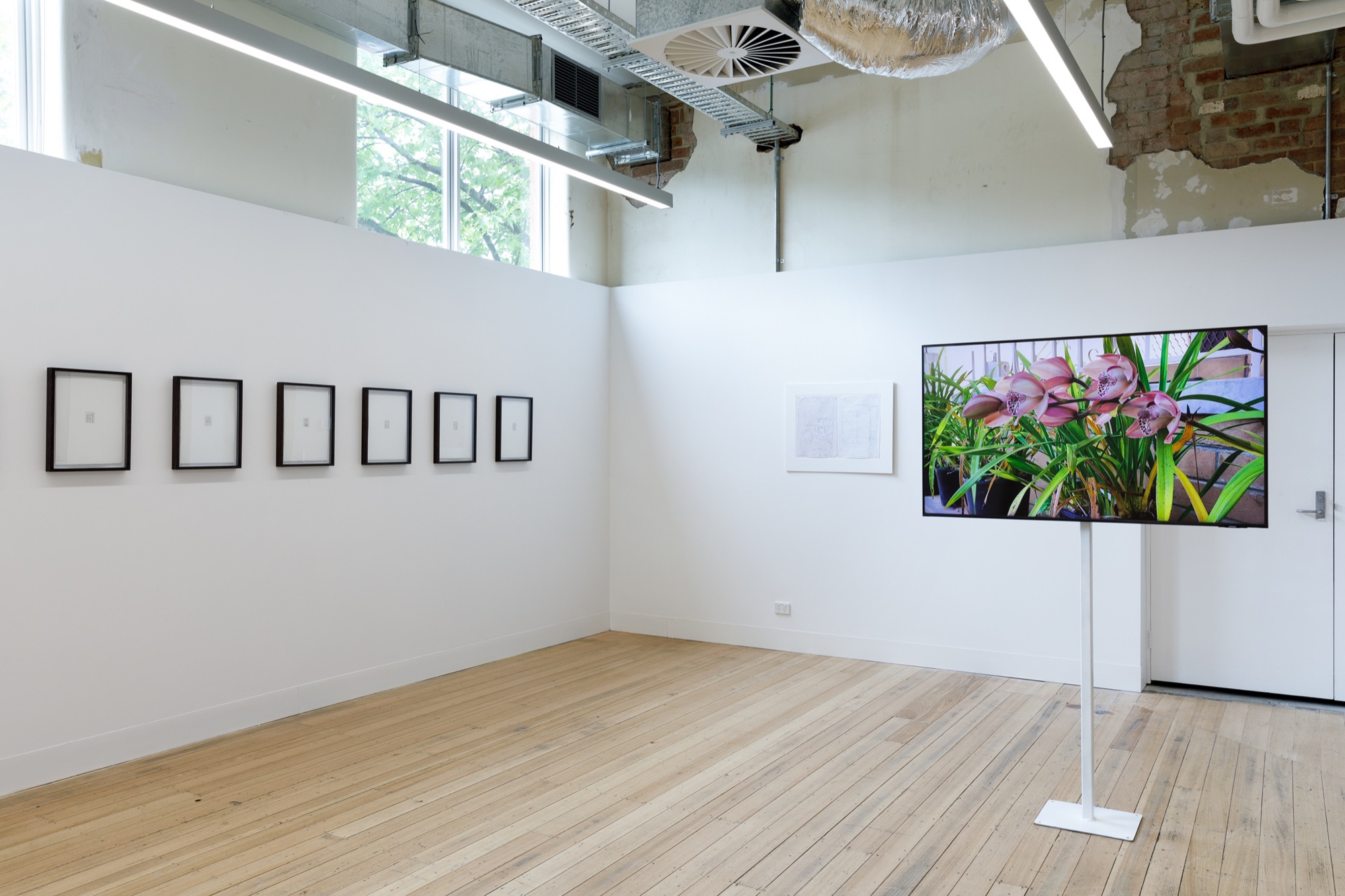 On the wall behind this video, Formoso exhibits two drawings by her grandparents of their childhood homes. All the sensations of experience precisely labelled. A map as a key to memory.
On the adjacent wall, Formoso's etchings. A series of minimalistic renderings of spaces that reach a fever pitch of abstraction as I walk leftwards to the final work in this series. A black rectangle: a colourless field of colour. All medium and texture, the urge to map and document space, inverts in on itself.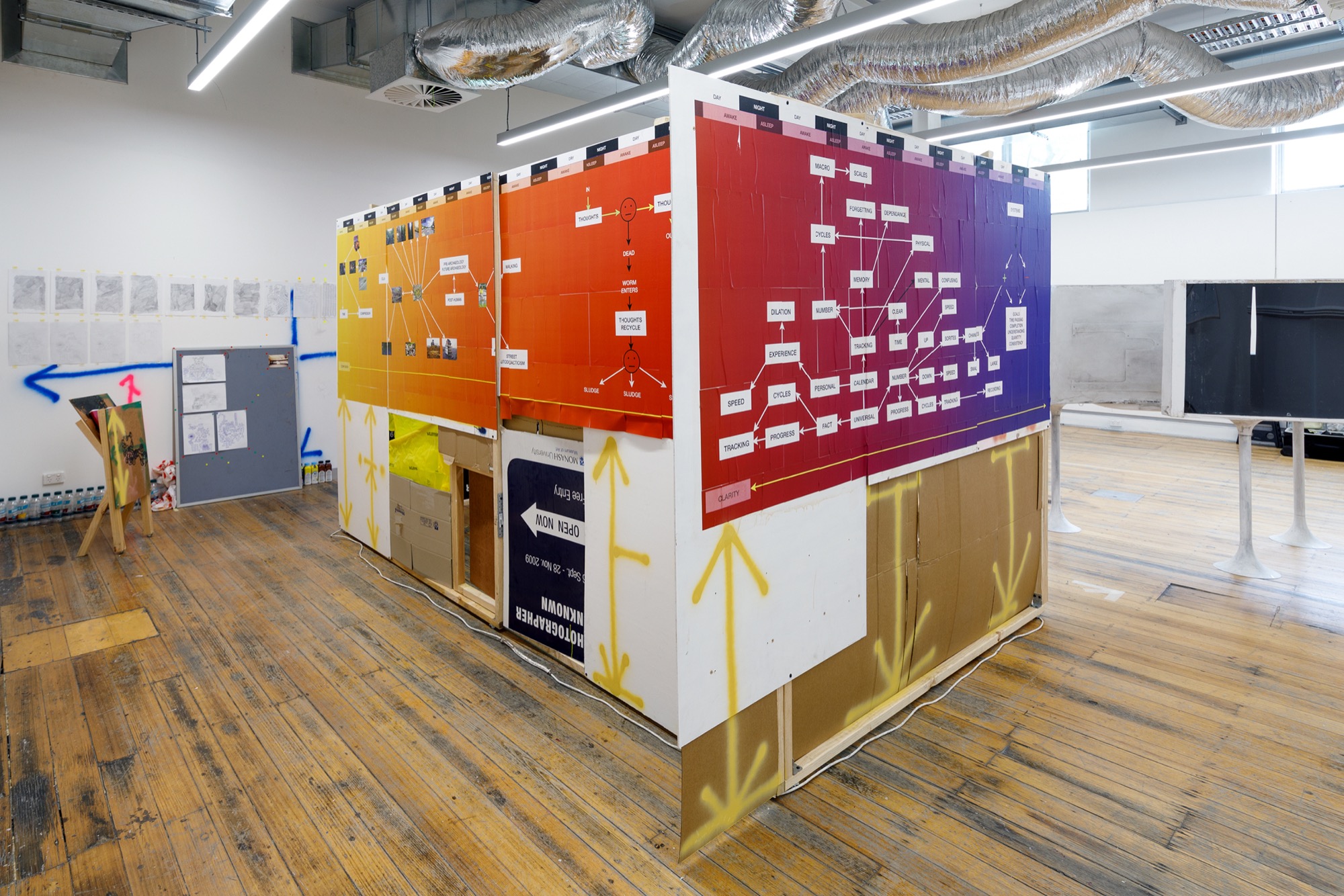 Rory Maley's work documents time. I am first met with the façade of order. A flowchart printed on paper in purple gradient and pasted on scrap wood on a roofless cubbyhouse. The more you look, the more the chart descends into repetition, leads you in circles and takes you back to the beginning. The scale of the work forces me to circumnavigate it, inculcating me into repeated cycles.
Behind this structure, the motif of a calendar proliferates, scribbled on paper in pencil, pinned in rows across the gallery walls. Each "chart" begins with a month, from which arrows frenetically extend and connect to circled numbers. Numbers lose all significance, overlap and connect cryptically. Time is mapped as elongated and condensed all at once. Maley's charting seems to yearn for order. Going round Maley's work, I become consumed in the act of tracing time for the sake of it. Any goal is abstracted by the process, lost in the map itself.
Beatrix Brenneman is a writer in Naarm/Melbourne. She is completing her Bachelor of Arts in Art History and Philosophy at the University of Melbourne.