Bachelor of Fine Art (Honours), MADA
By Angelica Nervegna-Reed
The "shock doctrine", as Naomi Klein argues, is the exploitation of national crises by governments in order to pass questionable policies. It is executed while members of society are too distracted physically and emotionally to engage or resist effectively. This concept is essential to understanding some of the work found in the Monash Fine Art Honours Graduate Exhibition 2021.
Ben Raynor's NYSE Bell 2008-2021(2021) is a two-channel video piece that plays on two screens facing directly opposite each other. This constructs a feedback loop through the synchronisation of the morning opening bell of the New York Stock Exchange, which rings on one monitor, and the evening bell, ringing on the other. The footage is sampled from 2008 to 2021, creating a commentary upon the financial gains of national crises at the cost of citizens. It is precisely this disaster capitalism that our leaders are too familiar with.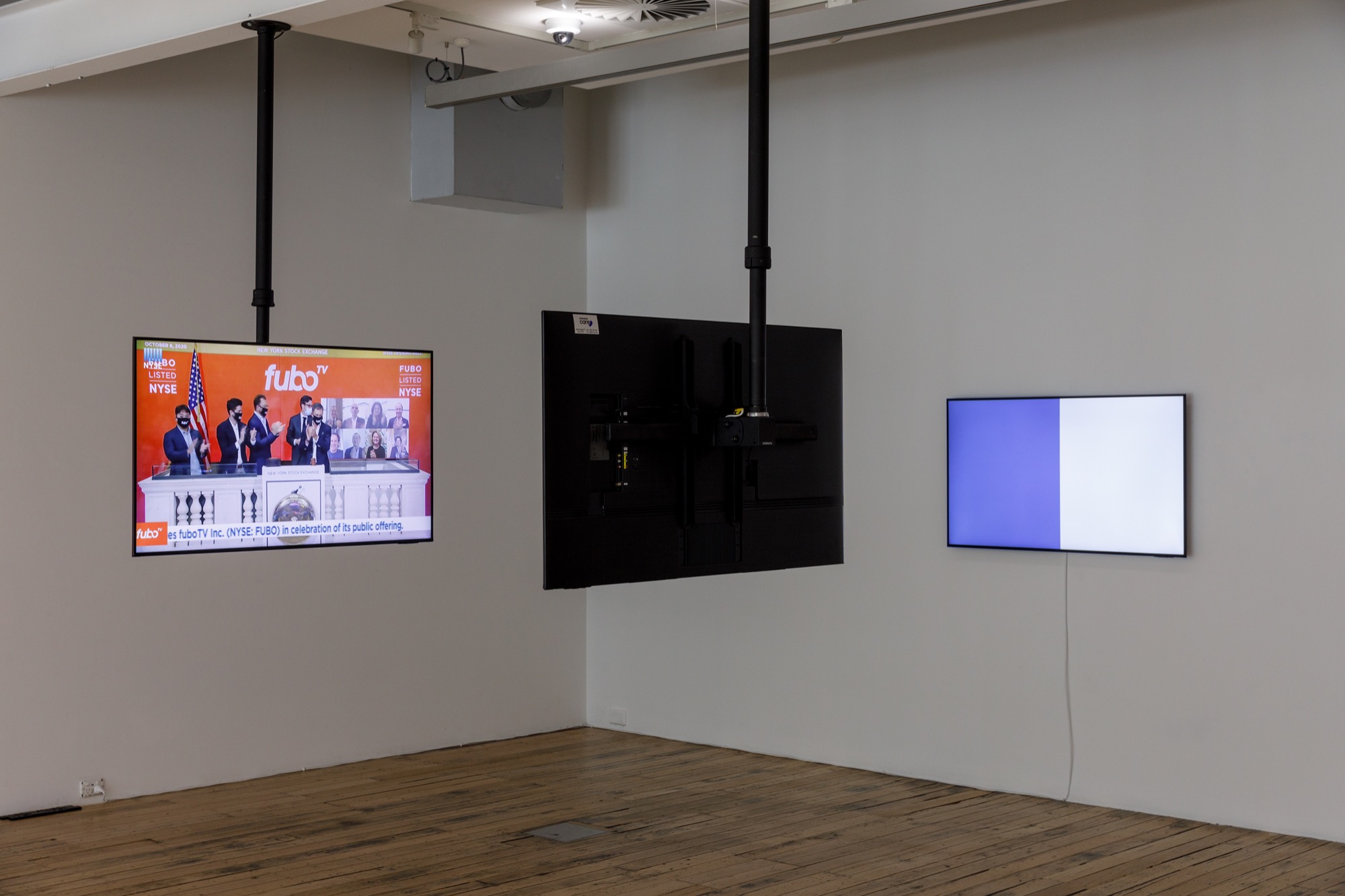 Whether we have seen it in a recent episode of Succession, or the discrete deals made with Amazon in purchasing our data, Raynor addresses these exploitative practices. The mirrored positioning of the two monitors creates an echo chamber that glorifies the ecstatic celebrations of the ringing bell. The glimpses of Marvel and SpongeBob, alongside corporate companies, forms a self-reflexive relation that renders trans-national organisations as a parody of their own image. Raynor situates us between two images of the Stock Exchange, consequently unstitching their power dynamic through disrupting the circulation of their relations. The seamless editing enables an artificial staging of these individuals, blurring the boundary between life and reality television.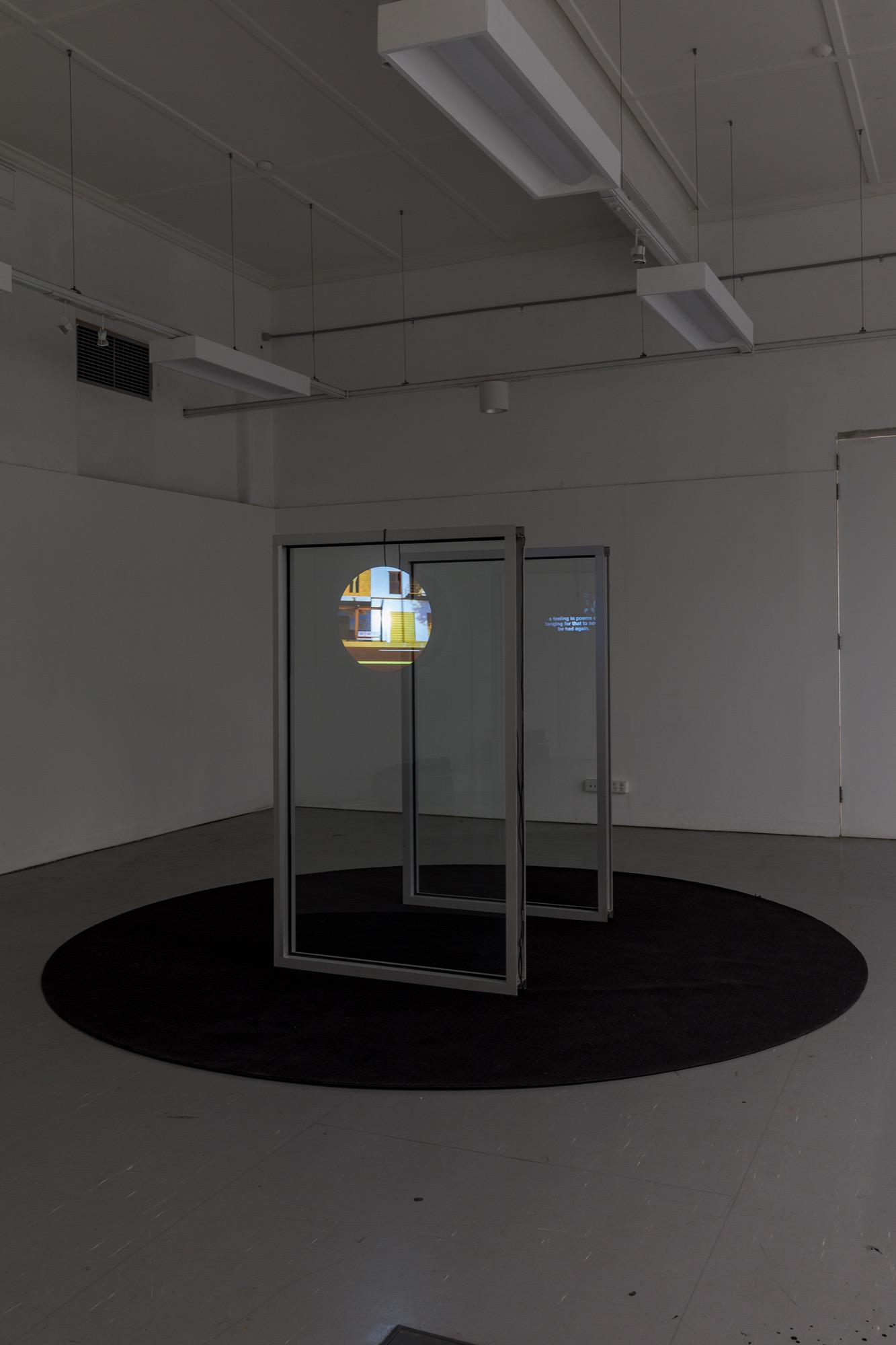 Both Raynor and Ned Shannon create an intermediary zone that places us in the centre of their exchange networks through spatial configurations. Shannon's I'll be in your dreams if you'll be in mine (2021) is a holographic LED display that projects and transforms the artist's personal dreams into a flickering landscape that is visible through two slates of transparent glass, which are installed opposite one another. In this dreamscape, a Buddha hovers and floats on top of the artificially rendered streets and later appears trapped behind a shopfront window, a little like a virtual tour on the Domain Real Estate website. The Buddha's presence points to notions of connectivity and continuous fluctuation en route to attaining enlightenment. Shannon interweaves his dream with that of a friend who dreamt of the same location. Superimposing the Buddha and its connotations onto an artificially mapped-out render forces us to question whether these pure spiritual notions now only exist within the globalised flow of information that characterises the twenty-first century.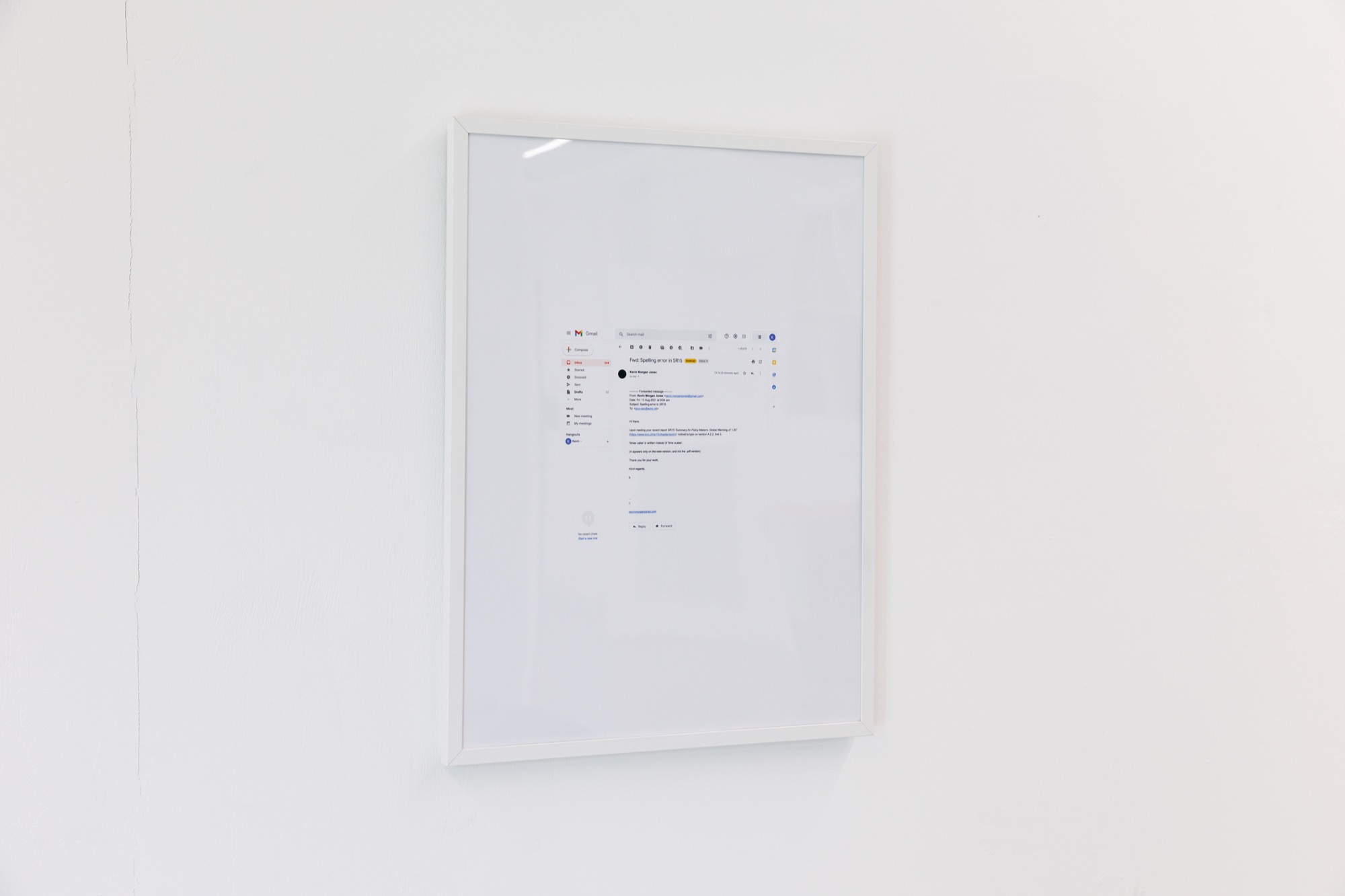 The flow of information in global networks is also crucial to understanding Kevin Morgan Jones's Untitled (Cales Passion) (2021), which, through its installation and opening-night performance, more clearly parodies corporatism and the desperation of society to be heard by those in power. The work stems from his chance discovery of a spelling error in the IPCC's most recent report on global warming. "Times cales" is the glitch within the system that emblematises this shared sense of doom. Relating to Nietzsche's statement that God is dead, perhaps, in the twenty-first century, the IPCC report replaces his presence.
Angelica Nervegna-Reed is an artist and writer based in Naarm/Melbourne who is a recent graduate from The University of Melbourne.